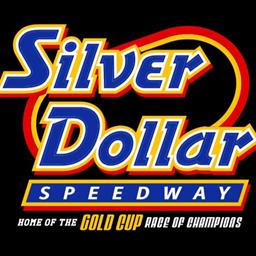 10/2/2010
Silver Dollar Speedway
---
Tim Kaeding Sweeps Fall Nationals
[caption id="" align="aligncenter" width="400"]
Photo by Steven Cox[/caption]
CHICO, CA (10-2-10) -
 It was just a few weeks ago that Tim Kaeding posted he was looking for a full-time ride in 2011. The Beef Packers #83 sprint car deal would run through the end of October and after that Kaeding was out of work. However, after the performance he put on this weekend at the Pacific Sprint Fall Nationals, Kaeding voiced his thoughts about the situation in victory lane. "I'm just out here trying to prove Dennis wrong," said an ecstatic Kaeding in victory lane. "Hopefully we can sit down after the season is over and mend some fences." Kaeding was really excited about the race tonight and track conditions. "That was fun tonight. I sure hope you fans had as much fun watching us as I did racing." Kaeding passed early leader Kyle Larson on lap 14 and went on to lead the final 26 laps for the popular win.With the win Kaeding is now a three-time champion of the Fall Nationals at Chico. His other wins were in 2001 and 2007. The 40-lap main event victory earned Kaeding and his team a cool $6,000 paycheck. Kaeding now has 54 career total main event wins at Silver Dollar Speedway.
For the second night in a row Chico's Jonathan Allard finished in the runner-up spot. "That's one of the best teams in California and I hope Tim can stay in that car next year," said Allard when congratulating Kaeding. "Overall it was a good weekend for us. It's disappointing not to get the win but we will take the podium finishes and move on to the next race. It's always good to race here at my home track and do well."
Kyle Larson finished in the third spot. Larson fell into the third spot on lap 31 when Allard passed him. "After Tim passed me my car seemed to tighten up," said Larson. "Tim just made better decisions in traffic than I did tonight. I just want to thank my guys for all their hard work this weekend."
Steven Tiner should really be proud of the weekend he had. Last night Tiner finished in the third spot. Tonight he was very competitive again and finished fourth. Roger Crockett passed Evan Suggs on lap 37 to secure the fifth place finish.
Caution flags plagued the first part of the main event. Andy Gregg brought out the yellow on lap two when he spun off turn three. Gregg was the only driver of the night to run the alphabet soup. Gregg won the 10-lap C main event. Starting dead last in the B main, Gregg charged through the field like tumbleweed blowing in a windstorm. When the 15-lap B main event was complete, Gregg finished third and moved into the feature event.
Lap four saw Chad Nolan park his Finley Farms #77 in turn four. Three laps later it was Nicole Miller who stopped in turn one. Her night would end a few laps later when she stopped in turn four on the 14th lap. She had front-end damage and needed to be towed back to the pit area. Miller had a strong weekend. She earned fast time honors on Friday night and qualified fourth quickest tonight. Miller went on to win the 15-lap B main event tonight.
Mason Moore came to a rest in turn two on lap seven. A few laps later Robbie Whitchurch came to a stop. It was a tough break for Whitchurch who started on the front row with Larson and was running in the top five. On the ensuing restart, Sean Becker looped it in turn two. Lap 17 saw two drivers with separate problems. Chad Nolan stopped again and on the restart Ryan Gomes hit the white tire in turn two. Up to this point the race had no rhythm. But that was all about to change.
Kaeding had passed Larson on lap 14 and was now the new leader. The all the drivers' credit, the final 23 laps went non-stop and what a show they put on. Kaeding led the field back to the green flag start. It was a pleasure to watch the top three drivers, as they not only raced each other but how they dealt with the upcoming slower traffic. Kaeding was masterful as usual. In fact he was so good in traffic, that at the end of the race he had lapped up to the seventh spot. Larson was trying to hold his own. On lap 30, Larson tried to get around a slower car but misjudged his move just slightly. This allowed Allard to pass him. Allard did his best to reel in Kaeding over the final nine laps. On the last lap Allard made an aggressive move going into turn three to close the gap. However, in the end, it was not enough. Kaeding came out of turn four with a two-car length advantage and won the race.
Sean Becker led all ten laps to win the first heat race. Chad Nolan held off Roger Crockett to earn the win in heat two. Jonathan Allard thrilled the crowd with a brave pass on the high side around Robbie Whitchurch to win heat three. Willie Croft led wire-to-wire and won heat four. Steven Tiner dominated the fifth heat to get the win.
Billy Butler thrilled the crowd when he turned in the quickest qualifying lap of the night. Butler's impressive lap was an 11.657.
A total of 54 drivers raced for the final time in 2010 at Silver Dollar Speedway. For full results and off-season information please visit www.silverdollarspeedway.com
Back to News