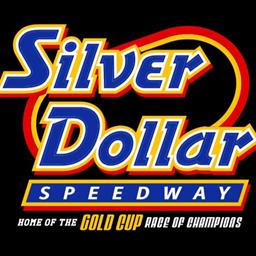 6/19/2023
Silver Dollar Speedway
---
Golobic Stays Hot in Chico; Wins First Tarter Memorial
FOR IMMEDIATE RELEASE
Contact: SLC Promotions, silverdollarspeedway@yahoo.com
Golobic Stays Hot in Chico; Wins His First Tarter Memorial
CHICO, Calif., June 16, 2023…Shane Golobic continues to show the way when it comes to sprint car racing at Silver Dollar Speedway. Golobic, the 2022 track champion, dominated the 35-lap main event, and captured his first David Tarter Memorial win. Golobic led from the start of the green flag. He would go on to lead all 35-laps. With the win, Golobic won the guaranteed $3,500 plus $50 per lap money as the leader of each lap. In all, Golobic took $5,250.00 home with him and his Matt Wood Racing No. 17w. Golobic won the fair race in May, the only other sprint car race held this year.
Chasing Golobic were Sean Becker and Willie Croft. With ever changing track conditions, these two battled it out over the course of the 35-lap distance. Croft held the second spot from lap seven until lap 26. Becker passed Croft as they were engaged in slower traffic. Becker went on to finish second while Croft hung on for third. Mitchell Faccinto snuck into fourth late in the race to secure a solid finish. Tanner Carrick passed Brian McGahan Jr. for the fifth spot with four laps to go.
Qualifying was exciting tonight as a unique twist in the format placed four drivers going for the $700 on the line. Each driver took one lap at the end of qualifying. These four were the fastest out of their groups. Kalib Henry grabbed the money and ran with his lap of 11.988. He was the only driver of 41 entries to get into the 11 second bracket.
Chance Grasty let all 12-laps to win the B main event. A large field of 20 drivers took the initial green flag. Casey Schmitz drove from 10th to second. Drake Standley and Dawson Hammes finished third and fourth and made the show.
The hard luck $200 award when to Any Gregg who flipped on the opening lap of the feature event. Shane Hopkins was awarded the hard charger bonus of $200. Hopkins did a great job during the feature event.
Big thanks to the entire Tarter Family. With their support and sponsorship, they added over $4,000 extra money to the sprint car purse during this year's 11th David Tarter Memorial.
The most thrilling race of the night involved the Crate Sprint Cars. Jacob Johnson led the first five laps. On lap six, Matthew Kaiser took the lead. Kaiser would lead the next 10 laps. With three to go, Johnson got up on the wheel and went hammer down mode. Johnson drove around Kaiser to retake the lead. Johnson electrified the crowd with the move and went on to win the first Crate Sprint main event of his career. He was joined in victory lane by his parents and crew members. It was an emotional win. Following the top two were Misty Castleberry, Britton Bock, and Carl Droivold. A total of 14 cars entered tonight's race.
Twenty Tri-State Pro Stocks lined up for their first appearance at Chico. It had been over four years since this style of car turned laps at this track. In the end it was a familiar name who triumphed. Richard Brace Jr. scored the popular win. He held off a hard charging Travis White. Third went to one of the legends of Silver Dollar Speedway Brent Lawrence. Donny Richardson charged from 14th to fourth. Fifth place went to Antonio Aragon who started deep in the field. It was great to see other familiar names, former stars of the speedway race again including Ryan McDaniel, Matt Micheli, Phil Marino, and James Castleberry.
Full results are available at https://speedhive.com/Events/2260628
END
---
Submitted By: troy hennig
Back to News