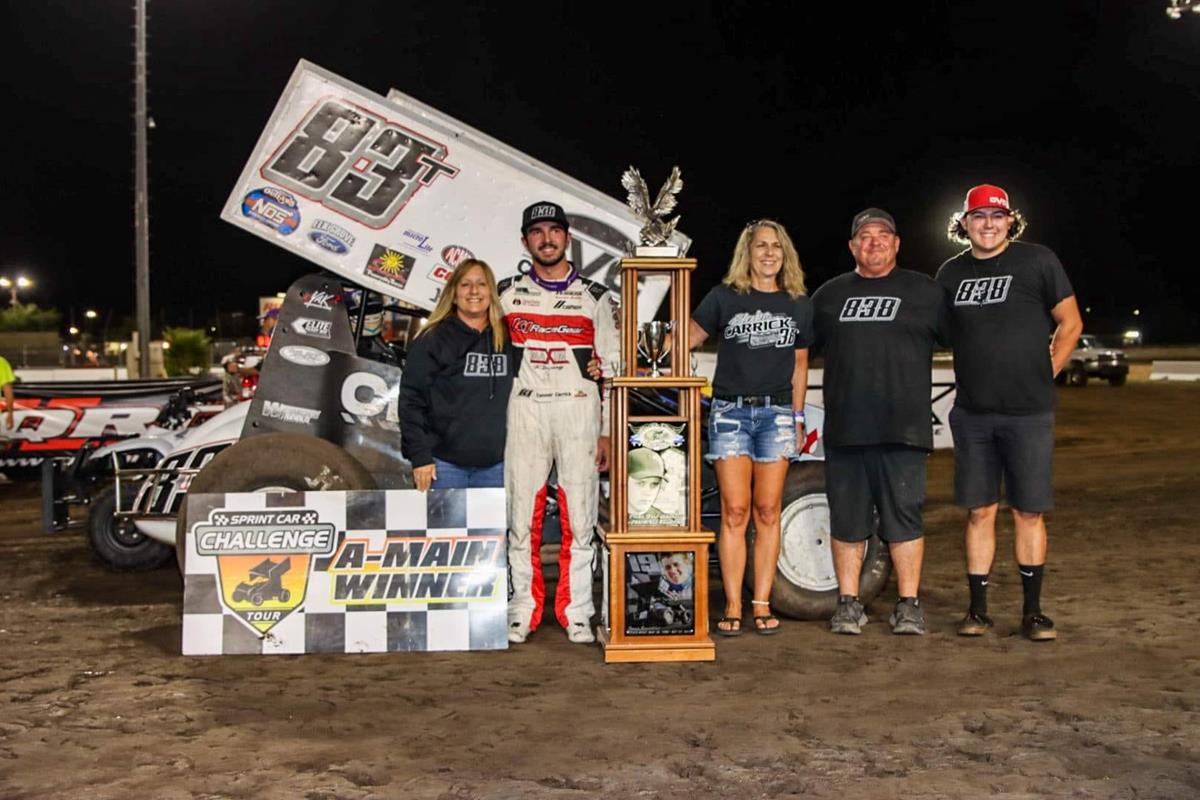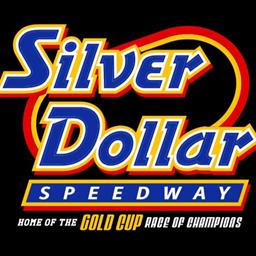 10/1/2022
Silver Dollar Speedway
---
Tanner Carrick Wins Tyler Wolf
Tanner Carrick wins a thrilling Tyler Wolf Memorial with SCCT in Chico
By Gary Thomas
Chico, CA…Lincoln's Tanner Carrick and Fremont's Shane Golobic thrilled the crowd on the final lap at Silver Dollar Speedway Friday night during the 9th annual Tyler Wolf Memorial.
At the checkered flag it was Carrick who fended off the last corner challenge to bring home the $4,000 grand prize with the Sprint Car Challenge Tour presented by Elk Grove Ford and Abreu Vineyards. It marked his second SCCT victory of the season to go along with his win at the Mel & Marlyn Hall Memorial in May at Marysville Raceway.
Carrick also captured opening night of the Pacific Sprint Fall Nationals for the second consecutive year. "That was an exciting main event and I hope all the fans enjoyed that one,� Carrick said after the race. "We won opening night of the Fall Nationals last year and I'd love nothing more than to come back tomorrow and sweep the weekend. I have to thank everybody that supports our race team and makes it possible.�
A well-prepared racing surface allowed some of the states top Sprint Car drivers to showcase their skills on Friday evening at the Tyler Wolf Memorial. Several movers and shakers were seen throughout the 35-lap contest. Modesto's Tony Gomes captured the High Sierra Industries Dash and took command early in the main event. Excellent racing action was seen all thru the field as Shane Golobic, Carrick, Mitchell Faccinto and others tried to race their way forward.
Golobic eventually found his way to the top spot as he searched for his 12th career SCCT victory. At one point it looked like he would ride off into the sunset, but Carrick had other plans and snagged the lead on a restart late in the going. With the white flag in the air Golobic gave it one last stab and attempted a slider in the final corners. Contact ensued however and resulted in Golobic dropping off the surface ever so slightly. Carrick crossed back under and accepted the checkered flag for the big win.
Mitchell Faccinto crossed the stripe in second to cap off a great main event for the Hanford racer. Faccinto found the extreme bottom line to his liking and nearly pulled off a win. Mather's Kalib Henry, the defending Fall Nationals winner, made an exciting charge late in the race to round out the podium. Golobic and Oregon racer Tanner Holmes finished fourth and fifth respectively. It was an impressive night for Holmes, who brought home his best career SCCT result. Completing the top-10 were Logan Forler, Pit Stop USA Hard Charger Dylan Bloomfield who started 23rd, Gomes, Michael Faccinto and 24th starter Max Mittry.
A stellar field of 67 cars competed on night one of the Pacific Sprint Fall Nationals. Young Gauge Garcia began the night by earning the Bianchi Farms Fast Time with a lap of 11.965 around the quarter-mile.
The Silver Dollar Speedway will cap off Fall Nationals weekend tonight, while the Sprint Car Challenge Tour heads next for the Cotton Classic at Keller Auto Speedway this coming Friday.
……
SCCT 360 Sprints – Tyler Wolf Memorial Results 67 Entries
A Feature 35 Laps
83T-Tanner Carrick[2]; 2. 21T-Mitchell Faccinto[7]; 3. 17M-Kalib Henry[13]; 4. 17W-Shane Golobic[4]; 5. 18T-Tanner Holmes[6]; 6. 2L-Logan Forler[3]; 7. 83V-Dylan Bloomfield[23]; 8. 75-Tony Gomes[1]; 9. X1-Michael Faccinto[9]; 10. 2X-Max Mittry[24]; 11. 5V-Landon Brooks[16]; 12. 38B-Blake Carrick[17]; 13. 7C-Kaleb Montgomery[10]; 14. 38-Colby Johnson[11]; 15. 9L-Luke Hayes[8]; 16. 41-Corey Day[19]; 17. 17-Ricky Sanders[18]; 18. 92-Andy Forsberg[12]; 19. 29-Willie Croft[22]; 20. 46JR-Joel Myers Jr[14]; 21. 7P-Jake Andreotti[21]; 22. 115-Nick Parker[5]; 23. 83SA-Isaiah Vasquez[15]; 24. 14W-Ryan Robinson[20]
B Feature 12 Laps
7P-Jake Andreotti[3]; 2. 29-Willie Croft[2]; 3. 83V-Dylan Bloomfield[9]; 4. 2X-Max Mittry[1]; 5. 87-Ashlyn Rodriguez[7]; 6. 34-Justin Henry[16]; 7. 98H-Matt Hein[8]; 8. 88A-Joey Ancona[15]; 9. 21-Michael Ing[14]; 10. 12J-John Clark[5]; 11. 4C-Tuesday Calderwood[12]; 12. 02-Ashton Torgerson[11]; 13. 57B-Bobby Butler[13]; 14. 17WX-Ryan Bernal[4]; 15. 28-Chase Johnson[6]; 16. 1F-DJ Freitas[10]
C Feature 10 Laps
57B-Bobby Butler[4]; 2. 21-Michael Ing[1]; 3. 88A-Joey Ancona[3]; 4. 34-Justin Henry[12]; 5. 21X-Gauge Garcia[13]; 6. 15-Michael Sellers[6]; 7. 71W-Mike Wasina Jr[10]; 8. 9-Tyler Brown[5]; 9. 78-Bret Barney[15]; 10. 2P-Alex Pettas[7]; 11. 94-Greg Decaires V[11]; 12. 7W-Dennis Scherer[8]; 13. 93-Stephen Ingraham[14]; 14. (DNS) 3C-Casey Schmitz; 15. (DNS) 54S-Drake Standley; 16. (DNS) 8-Colby Wiesz
D Feature 8 Laps
21X-Gauge Garcia[1]; 2. 93-Stephen Ingraham[6]; 3. 78-Bret Barney[4]; 4. 8-Colby Wiesz[3]; 5. 54-Carson Hall[13]; 6. 2-Wyatt Brown[14]; 7. 94TH-Braden Chiaramonte[10]; 8. 6W-Billy Wallace[8]; 9. 7V-Wyatt VanLare[7]; 10. 75S-Bill Smith[11]; 11. 15H-Pat Harvey Jr[15]; 12. 7X-Eddy Lewis[12]; 13. 15K-Cody Key[5]
Dash 6 Laps
75-Tony Gomes[1]; 2. 83T-Tanner Carrick[2]; 3. 2L-Logan Forler[4]; 4. 17W-Shane Golobic[8]; 5. 115-Nick Parker[3]; 6. 18T-Tanner Holmes[5]; 7. 21T-Mitchell Faccinto[6]; 8. 9L-Luke Hayes[7]
Heat 1 8 Laps
21T-Mitchell Faccinto[2]; 2. 38-Colby Johnson[1]; 3. 46JR-Joel Myers Jr[3]; 4. 38B-Blake Carrick[5]; 5. 9L-Luke Hayes[4]; 6. 17WX-Ryan Bernal[6]; 7. 98H-Matt Hein[7]; 8. 4C-Tuesday Calderwood[9]; 9. 57B-Bobby Butler[10]; 10. 15-Michael Sellers[11]; 11. 34-Justin Henry[12]; 12. 8-Colby Wiesz[8]
Heat 2 8 Laps
75-Tony Gomes[1]; 2. 2L-Logan Forler[2]; 3. 17M-Kalib Henry[3]; 4. 5V-Landon Brooks[5]; 5. 41-Corey Day[6]; 6. 2X-Max Mittry[4]; 7. 87-Ashlyn Rodriguez[7]; 8. 02-Ashton Torgerson[9]; 9. 88A-Joey Ancona[8]; 10. 2P-Alex Pettas[10]; 11. 94-Greg Decaires V[11]; 12. 78-Bret Barney[12]
Heat 3 8 Laps
83T-Tanner Carrick[1]; 2. 7C-Kaleb Montgomery[2]; 3. 17W-Shane Golobic[4]; 4. 83SA-Isaiah Vasquez[3]; 5. 14W-Ryan Robinson[8]; 6. 7P-Jake Andreotti[7]; 7. 12J-John Clark[6]; 8. 83V-Dylan Bloomfield[5]; 9. 3C-Casey Schmitz[11]; 10. 7W-Dennis Scherer[10]; 11. 71W-Mike Wasina Jr[9]; 12. (DNS) 55D-Dawson Hammes
Heat 4 8 Laps
115-Nick Parker[3]; 2. X1-Michael Faccinto[2]; 3. 92-Andy Forsberg[6]; 4. 18T-Tanner Holmes[1]; 5. 17-Ricky Sanders[5]; 6. 29-Willie Croft[10]; 7. 28-Chase Johnson[9]; 8. 1F-DJ Freitas[8]; 9. 21-Michael Ing[11]; 10. 9-Tyler Brown[12]; 11. 54S-Drake Standley[7]; 12. 21X-Gauge Garcia[4]
Qualifying 1
9L-Luke Hayes, 00:12.421[11]; 2. 38-Colby Johnson, 00:12.435[5]; 3. 21T-Mitchell Faccinto, 00:12.506[13]; 4. 46JR-Joel Myers Jr, 00:12.539[14]; 5. 38B-Blake Carrick, 00:12.602[3]; 6. 17WX-Ryan Bernal, 00:12.641[8]; 7. 98H-Matt Hein, 00:12.686[7]; 8. 8-Colby Wiesz, 00:12.688[6]; 9. 4C-Tuesday Calderwood, 00:12.743[16]; 10. 57B-Bobby Butler, 00:12.761[10]; 11. 15-Michael Sellers, 00:12.785[12]; 12. 34-Justin Henry, 00:12.821[9]; 13. 94TH-Braden Chiaramonte, 00:12.854[4]; 14. 54-Carson Hall, 00:12.913[15]; 15. 17C-Chris Bullock, 00:13.053[17]; 16. 7X-Eddy Lewis, 00:13.139[2]; 17. 4-Hershel Phillips, 00:16.196[1]
Qualifying 2
2X-Max Mittry, 00:12.160[6]; 2. 75-Tony Gomes, 00:12.228[14]; 3. 2L-Logan Forler, 00:12.238[16]; 4. 17M-Kalib Henry, 00:12.284[12]; 5. 5V-Landon Brooks, 00:12.316[5]; 6. 41-Corey Day, 00:12.329[15]; 7. 87-Ashlyn Rodriguez, 00:12.466[9]; 8. 88A-Joey Ancona, 00:12.476[11]; 9. 02-Ashton Torgerson, 00:12.533[4]; 10. 2P-Alex Pettas, 00:12.650[1]; 11. 94-Greg Decaires V, 00:12.780[8]; 12. 78-Bret Barney, 00:12.807[17]; 13. 93-Stephen Ingraham, 00:12.876[2]; 14. 8C-Anissa Curtice, 00:12.883[10]; 15. 6W-Billy Wallace, 00:12.912[3]; 16. 21W-Josh Wiesz, 00:12.932[7]; 17. 15H-Pat Harvey Jr, 00:12.968[13]
Qualifying 3
17W-Shane Golobic, 00:12.102[5]; 2. 83T-Tanner Carrick, 00:12.205[12]; 3. 7C-Kaleb Montgomery, 00:12.236[17]; 4. 83SA-Isaiah Vasquez, 00:12.245[13]; 5. 83V-Dylan Bloomfield, 00:12.253[2]; 6. 12J-John Clark, 00:12.304[14]; 7. 7P-Jake Andreotti, 00:12.344[9]; 8. 14W-Ryan Robinson, 00:12.545[1]; 9. 71W-Mike Wasina Jr, 00:12.575[15]; 10. 7W-Dennis Scherer, 00:12.780[7]; 11. 29T-Ryan Timmons, 00:12.833[16]; 12. 15K-Cody Key, 00:12.854[3]; 13. 75S-Bill Smith, 00:12.866[4]; 14. 71L-Korey Lovell, 00:12.929[10]; 15. 77-Ryan Lippincott, 00:13.088[6]; 16. 2-Wyatt Brown, 00:13.093[8]
Qualifying 4
21X-Gauge Garcia, 00:11.965[12]; 2. 18T-Tanner Holmes, 00:12.070[7]; 3. X1-Michael Faccinto, 00:12.087[6]; 4. 115-Nick Parker, 00:12.133[9]; 5. 17-Ricky Sanders, 00:12.164[16]; 6. 92-Andy Forsberg, 00:12.235[3]; 7. 54S-Drake Standley, 00:12.239[11]; 8. 1F-DJ Freitas, 00:12.284[13]; 9. 28-Chase Johnson, 00:12.311[14]; 10. 29-Willie Croft, 00:12.320[8]; 11. 21-Michael Ing, 00:12.414[2]; 12. 3C-Casey Schmitz, 00:12.475[15]; 13. 9-Tyler Brown, 00:12.491[5]; 14. 55D-Dawson Hammes, 00:12.651[4]; 15. 7V-Wyatt VanLare, 00:12.764[1]; 16. 5-Cody Smith, 00:12.897[10]
Non Qualifier 1 8 Laps
15-Michael Sellers[2]; 2. 94-Greg Decaires V[1]; 3. 34-Justin Henry[4]; 4. 78-Bret Barney[3]; 5. 93-Stephen Ingraham[6]; 6. 6W-Billy Wallace[8]; 7. 94TH-Braden Chiaramonte[5]; 8. 7X-Eddy Lewis[13]; 9. 54-Carson Hall[9]; 10. 8C-Anissa Curtice[7]; 11. 17C-Chris Bullock[12]; 12. 15H-Pat Harvey Jr[11]; 13. 4-Hershel Phillips[14]; 14. 21W-Josh Wiesz[10]
Non Qualifier 2 8 Laps
3C-Casey Schmitz[2]; 2. 21-Michael Ing[1]; 3. 55D-Dawson Hammes[4]; 4. 9-Tyler Brown[3]; 5. 15K-Cody Key[7]; 6. 7V-Wyatt VanLare[5]; 7. 29T-Ryan Timmons[6]; 8. 75S-Bill Smith[8]; 9. 2-Wyatt Brown[12]; 10. 5-Cody Smith[9]; 11. 77-Ryan Lippincott[11]
Back to News