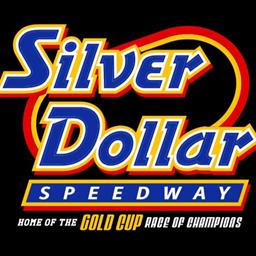 12/28/2020
Silver Dollar Speedway
---
Happy Holidays From Silver Dollar Speedway
FOR IMMEDIATE RELEASE
Silver Dollar Speedway
Happy Holidays From Silver Dollar Speedway; Quick Update for 2021
CHICO, CA – December 27, 2020…First and foremost, Happy Holidays to our extended racing family.  We are hopeful you and yours are staying safe and surviving in these convoluted times we are currently living in.  Trust us when we say, no one wants to see all our fans and race teams back at the Silver Dollar Speedway in 2021 more than we do.
At this moment, we are unable to release a full schedule for this upcoming race season because of the uncertainty of when we can allow fans back to the venue.  On the positive side, we are working on details to allow us to host the popular Silver Cup two-night race even without fans.  The race is tentatively scheduled for March 5th and 6th of 2021.  This race will be streamed through the Internet for those fans who are not allowed to attend.  We will release more details later.
We are excited, and hopeful, to host the 8th Annual David Tarter Memorial on a Saturday night in conjunction with the Sprint Car Challenge Tour (SCCT) in early May.  The popularity of the Tarter race will now be combined with the popular traveling SCCT winged 360 series.  One-night prior, we will host the annual Bill Brownell Memorial.  This allows us to host two nights of winged 360-action in the same weekend.  If fans are not allowed back at that time, then the Tarter race will move back to June or a date when we can have full capacity.
Other popular nights we plan on having is the July 4th racing and fireworks show, the Tyler Wolf Memorial, and the Fall Nationals in Tribute to Stephen Allard.  We are also open to some new ideas and events to create some more positive buzz around dirt track racing and the Silver Dollar Fairgrounds in 2021.
We are currently working on a welcome back race for the fans and competitors sometime in June tentatively called the Summer Nationals.  Our idea is to work with the Silver Dollar Fairgrounds to organize a weekend of music, food, camping and racing.  The normalcy of Friday night racing will be at the forefront of our minds and we are hopeful to offer some sort of Championship season once fan restrictions are removed.
The Gold Cup Race of Champions is scheduled for September 8th, 9th, 10th, and 11th.  The World of Outlaws NOS Energy Drink Sprint Car Series will return to the famed quarter-mile clay oval on Friday (10th) and Saturday (11th) night.
We really miss seeing the Sport Mods, Street Stocks and Hobby Stocks on our Friday night program.  We are actively trying to add all these great divisions into as many nights as we can for the 2021 season.  Other traveling divisions like the dwarf cars and non-wing spec sprints are just a few that we are also trying to pencil in for some track time in 2021.  Once again, we just ask for your continued support and patience as we work out details moving forward.
Once we get into the new year, we encourage our fans and drivers to keep checking our website www.silverdollarspeedway.com for more updates.  We also post updates on our Facebook and Twitter feeds.
Our 2020 season was shortened to just two events due to the Covid-19 Pandemic.  We are geared up to not let that happen in 2021.  The excitement of bringing live, action packed, dirt track racing back to the Chico community is what we are all striving to accomplish.  We are thankful for your love of the sport and for continuing to stay positive as we all navigate these uncharted waters.  Happy Holidays once again, see you in 2021.
END
Back to News