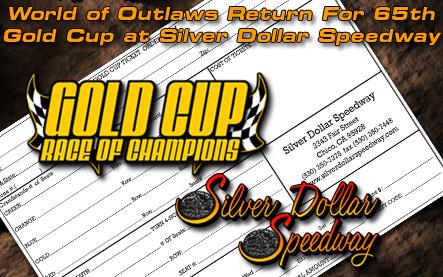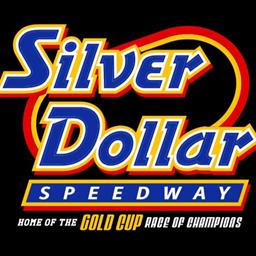 10/2/2017
Silver Dollar Speedway
---
World of Outlaws Return For 65th Gold Cup at Silver Dollar Speedway
CHICO, CA (10-2-17) -Â The World of Outlaws will return to the 65th Anniversary of the famed Gold Cup Race of Champions event at Silver Dollar Speedway. "We are excited to continue our relationship with the World of Outlaws and bring the best sprint car drivers to race against our locals and showcase their skills in front of our great fans at Chico," said promoter Dennis Gage. The 65th Gold Cup will take place September 5, 6, 7 and 8th of 2018. "We are finalizing all the details but next year's Gold Cup will continue to be a premier event featuring four nights of racing," said Gage.
Fans wanting to reserve their current seats for the 2018 event need to fill out their renewal forms and mail it back to the Speedway address before this Friday afternoon, October 6th. Fans can also call the track office at (530) 50-7250 this week. If your seats are not renewed before this Friday, those seats will be available for the public to purchase on Columbus Day, October 9th, at 9 AM. Fans can also reserve their camping spots on the same form.
The link for the on-line 2018 ticket information is located here http://goldcup.silverdollarspeedway.com/2017/2017goldCupOrderForm.pdf
Tickets for the public go on sale October 9th, 2017 at 9 AM. Fans can call the office number at (530) 350-7275 on the day the tickets go on sale. Extra help will be brought in to help answer the phone lines.
The racing schedule for 2018 should be announced sometime around the end of December or beginning of January. Please visit www.silverdollarspeedway.com for the latest information.
Back to News