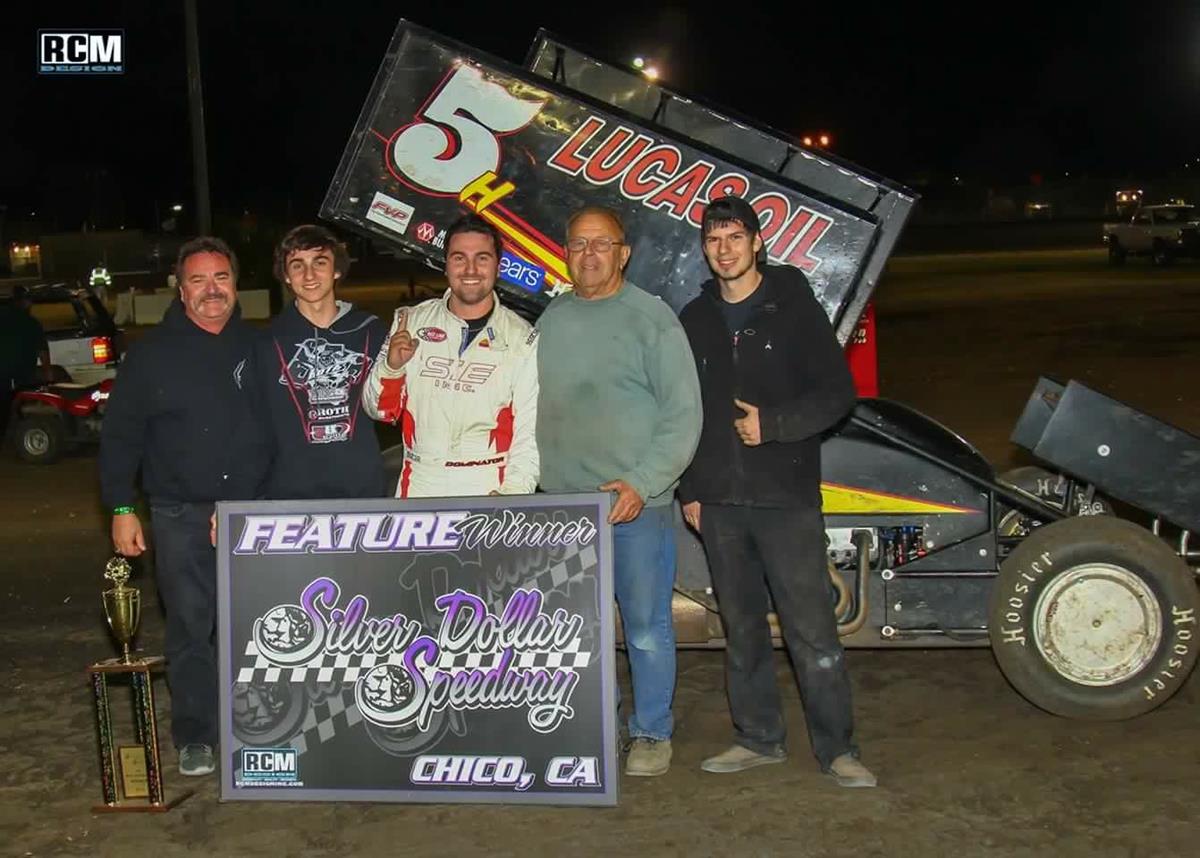 10/4/2016
Inside Line Promotions
---
Scelzi Uses Last-Lap Pass to Earn First Career Win at Silver Dollar Speedway
(Photo by RCM Design)
Inside Line Promotions – CHICO, Calif. (Oct. 4, 2016) – Dominic Scelzi is able to breathe a little easier this week now that the monkey has jumped off his back.
After coming so close many times this season Scelzi recorded his first feature victory of the year last Friday at Silver Dollar Speedway during the opening round of the Fall Nationals, where he drove for Van Dyke Motorsports.
"It was huge," he said. "It seemed like we could have had four or five wins this year. To finally get one and one we took from someone else was huge for my confidence. It was huge for me as a driver to jump into a new car and get the win. I feel like a million bucks."
Scelzi kicked off the night by qualifying 13th quickest out of 42 drivers. That lined him up on the pole of a heat race, which he won to lock into the dash.
"It was a real last minute deal to drive Friday night," he said. "It went really, really smooth. We timed in pretty good and were able to win the heat race to make the dash. In the dash we were pretty good as well, but the bottom started better so we finished second."
Scelzi's runner-up result in the dash lined him up on the outside of the front row for the main event.
"We made a couple of changes to help the car around the curb," he said. "We took the green flag and I went to the top. I fell back to third. (Andy) Forsberg and (Kyle) Hirst got away from me for a while, but I reeled them back in. We had a yellow and I was all over Andy for second. We got caught behind a lapper and I thought we were going to run third, but Kyle got caught up with a lapped car coming to the white flag. On the restart Forsberg went to the bottom. I was able to run the top. The bottom was the preferred lane in turns three and four. I went through the middle and I was able to stay up with him. I think that's what won us the race. We went back into turns one and two (on the last lap) and I got a really good run on the top. I got barely around him down the backstretch and got to the bottom first in turn three."
Scelzi's last-lap pass earned him his first career triumph at the famed quarter-mile oval. Here is a link to watch the main event: https://youtu.be/9vH_d1WDJXg.
The weekend concluded on Saturday when Scelzi drove for Nick McColloch.
"We went out second to last in qualifying and the curb was weird in turns three and four," Scelzi said. "It was really rough on the exit. I felt really good, but we got into it wrong coming out of turn four."
Scelzi timed in 10th quickest in his group. That lined him up on the inside of the third row for a heat race, where he advanced to place third to lock into the 12th starting position for the main event.
"We decided we were going to try some stuff," he said. "We were just a little too tight. In the beginning of the race I was able to make the middle work. I drove up to fourth by Lap 15. As the middle went away my option was just around the bottom. I was too tight to make the top work. I ended up backing up to eighth."
Scelzi's eighth-place result was his 16th top 10 of the season.
He will return to his family owned car to race with the King of the West 410 Sprint Car Series this Friday at Ocean Speedway in Watsonville, Calif., before piloting the Van Lare Family entry on Saturday at Petaluma Speedway in Petaluma, Calif.
QUICK RESULTS –
Sept. 30 – Silver Dollar Speedway in Chico, Calif. – Qualifying: 13; Heat race: 1 (1); Dash: 2 (2); Feature: 1 (2).
Oct. 1 – Silver Dollar Speedway in Chico, Calif. – Qualifying: 10; Heat race: 3 (5); Feature: 8 (12).
SEASON STATS –
62 races, 1 win, 6 top fives, 16 top 10s, 29 top 15s, 36 top 20s
UP NEXT –
Friday at Ocean Speedway in Watsonville, Calif., with the King of the West 410 Sprint Car Series and Saturday at Petaluma Speedway in Petaluma, Calif.
MEDIA LINKS –
Website: http://www.GaryScelziMotorsports.com
Twitter: https://twitter.com/DominicScelzi41
Facebook: https://www.facebook.com/Scelzi41
VIDEO –
Here is a link to a highlight video: https://vimeo.com/161410751
Here is a link to a promotional video: https://vimeo.com/160322149
SPONSOR SPOTLIGHT – Scelzi Enterprises
In 1979, brothers Mike, James and Gary Scelzi began manufacturing their line of flatbeds out of their company's 4,500-square-foot facility in Fresno, Calif. They added truck service bodies and crane bodies to their line in 1990. Today, Scelzi Enterprises is the Valley's largest manufacturer and supplier of truck bodies and parts. The operation includes 16 acres with more than 200,000 square feet of manufacturing facilities in Fresno alone. Scelzi Enterprises creates custom truck bodies for a wide range of customers, from single vehicles for individuals to entire fleets for some of California's largest companies and utilities. For more information, visit http://www.SEInc.com.
"Scelzi Enterprises has been around long before my brother and I," Scelzi said. "My dad and uncles have been involved in racing for years. They owned a sand dragster when my dad was young and started racing, and my uncle owned a very famous hard top years ago with many famous California drivers behind the wheel, including the one and only Al Pombo."
Scelzi would also like to thank Whipple Superchargers, Panella Trucking, Carlucci Transport, Fuel Delivery Services, Inc., Fowler Packing, Roth Motorsports, Red Rose Transportation, Inc., Red Line Oil, Schoenfeld Headers, Todd Jorgensen, Brown and Miller Racing Solutions, FK Rod Ends, Weld Wheels, Simpson Race Products, Sparco, KSE Racing Products, Worldwide Bearings, Blast Tech, K&N Filters, ButlerBuilt Professional Seat Systems, Meridian Steel, Kenny's Components, G & J Truck Sales, Lincoln Auto Auction, Auto Meter, Allstar Performance, NAPA Auto Parts, DJS Safe Seats, Southern Pacific Farms and Arctic Cat for their continued support.
INSIDE LINE PROMOTIONS –
Inside Line Promotions specializes in affordable public relations and media management for motor sports drivers, teams, sponsors, tracks, series, events, organizations and manufacturers. ILP Founder Shawn Miller leverages professional journalism with new media technologies and social networking to improve your exposure and the return on investment for your sponsors.
To meet the media relations needs of your program by joining Team ILP, contact Shawn at 541-510-3663 or Shawn@InsideLinePromotions.com. For more information on Inside Line Promotions, visit http://www.InsideLinePromotions.com.
---
Article Credit: Inside Line Promotions
Submitted By: Shawn Miller
Back to News