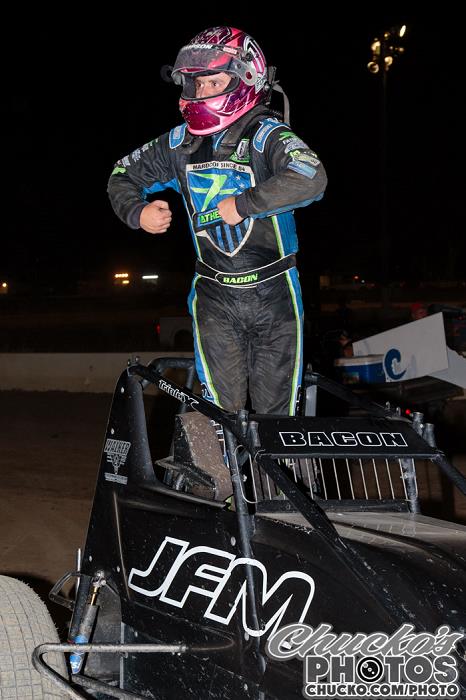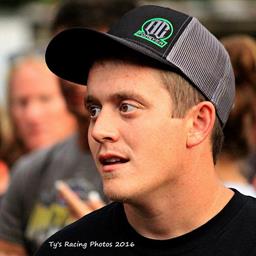 ---
Brady Bacon – Win in Hanford Caps California Run!
Brady Bacon – Win in Hanford Caps California Run!
(Bill W) September 13, 2016 – It's been a busy couple of weeks for Broken Arrow, Oklahoma driver Brady Bacon. The fortnight included racing sprints with and without the wing, midgets and Silver Crown. A trip to California Speedweek with the USAC/CRA series culminated in a win last Saturday night in Josh Ford's #73 at Keller Auto Speedway in Hanford. Brady returns to the Midwest and the Hoffman Racing/Dynamics, Inc. #69 this weekend in Indiana USAC National Sprint Car events at the Terre Haute Action Track Friday and Tri-State Speedway near Haubstadt Tuesday. He will take a 192-point series' lead into the weekend.
Things started back on September 2 at Kokomo Speedway's "Salute to Bryan Clauson". "I had the opportunity to drive for Todd Keen at Kokomo," says Brady. "He keeps his car in the same town that I keep mine. We've tried to get together a couple of times in the last couple years, but it hasn't worked out. It was fun to race together and get a good finish (fourth after starting eighth). There were a lot of good cars there, so I was pretty excited about that. We made some changes throughout the night to make me more comfortable, so for the first night out, we were happy about that."
The Ted Horn 100 for the USAC Silver Crown Series at the "Magic Mile" in DuQuoin was up next on Saturday, September 3. Brady was again aboard Paul Martens #48. "We had some issues early in the night, and didn't get any hot laps," he says. "We didn't qualify well (15th). It's a little hard to pass there. We got up to fourth at one point. We just used our tires up too much. At the end, (Shane) Cockrum was pushing me a little bit and I slipped up. Once you slide out, you lose a lot of time, and if your tires are bald, you really lose a lot of time. We ended up sixth. I think we may have only had a lap or two left in the right rear, so I definitely used it up."
Brady was aboard a plane headed for Calistoga Speedway's Louie Vermeil Classic finale on Sunday, September 4 in northern California. He ran double duty for Ford. "We were good in both cars really," he says. "The racetrack was still good for the midget feature. We kind of threw something at it and went to the bottom (after starting in row five). It ended up working out for us with a late yellow and we got up to second. I made a small mistake in the last couple of laps. Without that, I may have had a shot to win, but it was hard to make perfect laps at the time. It was a good paying race with some tough cars, so we were happy with the results."
Things didn't go as smoothly in the sprint car, though he won his heat. "There were a lot of other cars bouncing around out there," says Brady. "It was one-lane around the top and those guys weren't accepting that fact. They were crashing into each other, and unfortunately, I couldn't miss them all."
On Labor Day, the USAC/CRA series headed to Petaluma Speedway. "It was soaking wet," says Brady, who timed in fourth quick, but had to qualify through the B main. "It was still greasy in the feature. I got underneath a guy and he came down and clipped my front end. I went to the tail and came up to twelfth. It was super-heavy and a little racetrack like that makes it hard to pass. We put it on the trailer and went on to the next one."
The Civil War Sprint Car Series 360's were next at Silver Dollar Speedway in Chico to open the Gold Cup last Wednesday. "We were fifth quick in our flight of cars," says Brady. "We were able to win our heat and qualify for the Dash. Unfortunately, we had a mechanical failure in the Dash, and we didn't make it out for the feature. We had some great speed though. It had been a while since I'd been in a winged 360 and it felt good."
Brady would compete at the same venue Thursday with USAC/CRA. "We weren't the best on start," he says after starting up front in the feature. "We were back in third, and the track was choppy and heavy. We were on the bottom, and I thought I was going to hold onto third. There was a single-file restart. They turned the lights off, and said they were going green the next time by. Apparently, the first and second place cars didn't see that, and I passed them going down the frontstretch. We got the lead that way. Towards the end of the race, we got into lapped traffic, and I was hitting the cushion pretty hard. I got into it a little heavy and biked it. Damion (Gardner) got by me into the lead. Fortunately, I was able to hang on to it and hold onto second. I put a 'Hail Mary' on him on the last lap, but couldn't quite get it back."
Friday, Speedweek moved to Ocean Speedway in Watsonville. "We ran the Spike chassis during the week, and I just wasn't quite as comfortable in that as the XXX," says Brady. "I thought we'd get it tuned in, but Friday was the night we decided we were just a step behind with it with me behind the wheel. I didn't qualify well (16th), and had problems with the front end bouncing around. The feature went from super-heavy to super-slick in a hurry. We didn't tighten up enough and got caught off guard. We did move up to eighth from 16th, but the way the track was, we should have been contending for the win. You can't hit it right every time."
The team switched back to the XXX chassis for Keller Auto Speedway in Hanford. Brady is fond of the bullring where he posted an ASCS National feature win in 2012. He would grab another victory there Saturday. "We didn't qualify the greatest (10th)," he says. "The track was a little greasy early on when we went out. We finished third in the heat, and that put us on the pole of the feature. We led every lap. The track got pretty technical. We had to run the bottom of one and two and it had a rhythm section that you had to bounce through. The top got really slick to a hard cushion. It was pretty fast, and you couldn't make any mistakes. I was able to avoid them enough not to have anyone get around me. It was good to get a win for Josh and the team before we headed home."
Follow Brady on his Website, Twitter and Facebook!
Follow Brady at his website located at www.BradyBaconRacing.com! Also keep up with him on Facebook and Twitter (which also can be accessed at the website) at the following links…
Twitter Link – http://twitter.com/BradyBacon
Facebook Link - www.facebook.com/pages/Brady-Bacon-Racing/278125555137
Partner of the Week – Viper Risk Management Group
Viper Risk Management Group offers a full spectrum of coverage for all your insurance needs!
? Personal Auto
? Commercial Auto
? Recreational Vehicle
? Motorcycle
? Motorhome
? Trailer
? Watercraft
? Classic/Collector
? Homeowners
? Condo
? Renters
? Flood
? Coastal Property
? Umbrella
? Personal Health
? Business/Small Group Health
? Life Insurance
? Annuities
? Professional Liability
? Errors and Omission
? Medical Malpractice
? Business Owners
? Contractor
? Personal Trainer Insurance
? Event Insurance
? Motorsports Insurance
? Workers Comp
? Commercial Umbrella
Visit Viper Risk Management Group online at www.VRMGInc.com!
Associate Marketing Partner of the Week – Simpson Performance Products
Simpson Performance Products is headquartered in New Braunfels, TX with more than 80,000 sq. feet of manufacturing and warehouse space. Many of our restraints, helmets and flagship parachutes are manufactured and tested right here. Simpson fire suits and crew uniforms are manufactured outside of Los Angeles, CA in our 52,000 sq. foot facility. Simpson also employs the largest customer service and sales team devoted solely to servicing NASCAR customers of any racing safety supplier, based in the heart of NASCAR country, Mooresville, NC. Visit us online at www.TeamSimpson.com!
Brady Bacon Racing would like the following sponsors for all their help: Fatheadz Eyewear, Viper Risk Management Group, Triple X Race Co., Tel-Star Technologies, PPM Titanium Products, KTA Kiser's Truck and Auto (formerly Sham's Garage), Heath Clips Lawn Care, Chubby from CnB Mushroom Farms, Lucas Oil Products, Factory Kahne, FK Indy, Lightning Wings, CP Carrillo, Keizer Wheels, Smiley's Racing Products, Eaton Industrial Coatings, Sweet Mfg., Butlerbuilt Seats, Brown and Miller Racing Solutions, Proglide Coatings, Diversified Machine Inc., Fuel Safe, Allstar Performance, Simpson, Octane Ink, Schroth Racing, Wilwood, King Racing Products and Schoenfeld Headers.
The Hoffman/Dynamic, Inc. #69 sprinter is sponsored by Mean Green, Mopar, Triple X Race Components, Hoosier, DMI, Lykins, Engler Machine & Tool, Goodridge Fluid Transfer Systems, KSE, MPD Racing, CSI Shocks, XYZ Machining, Saldana Racing Products, Fuel Safe Racing Cells, Fastener Specialty Motorsports, Wilwood Brakes, Joe Gibbs Driven Racing Oil, Zemco Headers, Chalk Racing Products and Weld.
Photo: Brady poses in Victory Lane at Hanford (Chuck Fry – Chucko's Photos)
Bill W Media
Monroe, IA USA
Twitter: @BillWMedia
e-mail: sprntcar@hotmail.com
website: www.OpenWheel101.com
Back to News