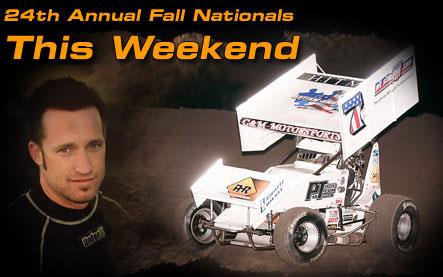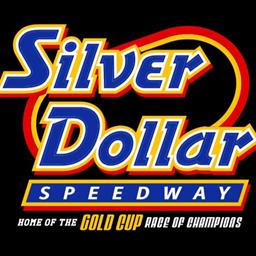 9/27/2016
Silver Dollar Speedway
---
24th Annual Fall Nationals This Weekend
CHICO, CA (9-27-16) -Â The 2016 racing season at Silver Dollar Speedway comes to end with the 24th Annual Fall Nationals this Friday and Saturday night. This weekend will mark the fourth consecutive year that the track will honor two-time Silver Dollar Speedway sprint car driving champion Stephen Allard with naming the race in his honor. Over 40 Winged 360 sprint cars are expected to challenge for the $5,000 to win Saturday night 40-lap finale. Friday night's 30-lap main event winner will receive $3,000. Nearly $40,000 will be on the line over the two day race. With the big prize money and Stephen Allard's name attached to this event, numerous sprint car champions are scheduled to race this weekend.
Pit gate will open at 2 PM each day. The front grandstand gate will open at 5 PM each night. Adult general admission for Friday night is $17.00, $14 for seniors and juniors; children are $6.00 and kids five and under are free. Saturday night the adult general admission is $22.00 with seniors and juniors $17.00; children are $6.00 and kids five and under are free.
The economy winged sprints will join the winged 360 sprint cars on Friday night. Wingless spec sprints are scheduled to race on Saturday night.
2014 Gold Cup Champion and 2008 Fall Nationals winner Jonathan Allard is set to return to his home track and get back to his winning ways. It has been over a month since Allard turned laps at Chico and his absence has be felt around the track. Allard is primed to bump up his 169 total sprint car main event wins this weekend. Allard is also poised to win the race in tribute to his brother Stephen.
Auburn's Andy Forsberg is the defending champion of the Fall Nationals in Tribute to Stephen Allard. Forsberg is fresh of his third place finish at the Gold Cup Race of Champions. Forsberg comes into this weekend's racing action with 12 wins in 2016 at a variety of dirt tracks in Northern California. Back in 2006, Forsberg also won the Fall Nationals. Forsberg has 149 career sprint cars wins with 43 of them at Chico.
Six-time Silver Dollar Speedway driving champion Sean Becker of Roseville is looking to make more history this weekend. If Becker can win on Saturday night, he will tie Tim Kaeding for the most Fall Nationals wins at four. Becker's most recent Fall Nationals win took place in 2014.
2013 Fall Nationals winner Mason Moore of Princeton just won the 2016 Placerville Speedway sprint car title. Moore scored a Friday night win at Chico this year on July 8th. Moore is currently engaged in a close championship battle with Forsberg for the Civil War title.
Paradise driver Kyle Hirst has won the majority of the bigger races at Silver Dollar Speedway. However, a Fall Nationals Saturday night win has eluded him throughout his brilliant career. This year Hirst won three races at Chico including the Dave Bradway Jr., David Tarter and Tyler Wolf Memorials. No other driver has won those three same races in one season.
Campbell's Bud Kaeding is a two-time champion of the Fall Nationals. In fact, Kaeding is credited with winning the first two Fall Nationals back in 1996 and 1997. Kaeding won a Friday night race at Chico on August 26th and is fresh off a King of the West triumph this past Saturday at Placerville Speedway.
Stockton's Brad Furr just won his second Ocean Speedway sprint car championship and is a 2003 Fall Nationals winner. Rio Linda's Cody Lamar is the 2016 Marysville Raceway sprint car champion and picked up a Chico win his season on April 1st. Two of the best Central California drivers Cory Eliason and Mitchell Faccinto each have wins at Chico in 2016. Sacramento's Willie Croft has two wins this year at Silver Dollar Speedway and has been a consistent top runner this year. Clarksburg's Justyn Cox, Chico's Michael Ing, Redding's Chase Majdic, Fresno's Dominic Scelzi and Fair Oaks Kalib Henry are young guns looking to get the big win this weekend. Hollister's versatile driving specialist Ryan Bernal is scheduled to drive a Roth Motorsports car. Roth Motorsports has won this event twice. Hanford's DJ Netto will pilot the famed Lamar #3c this weekend.
Back to News