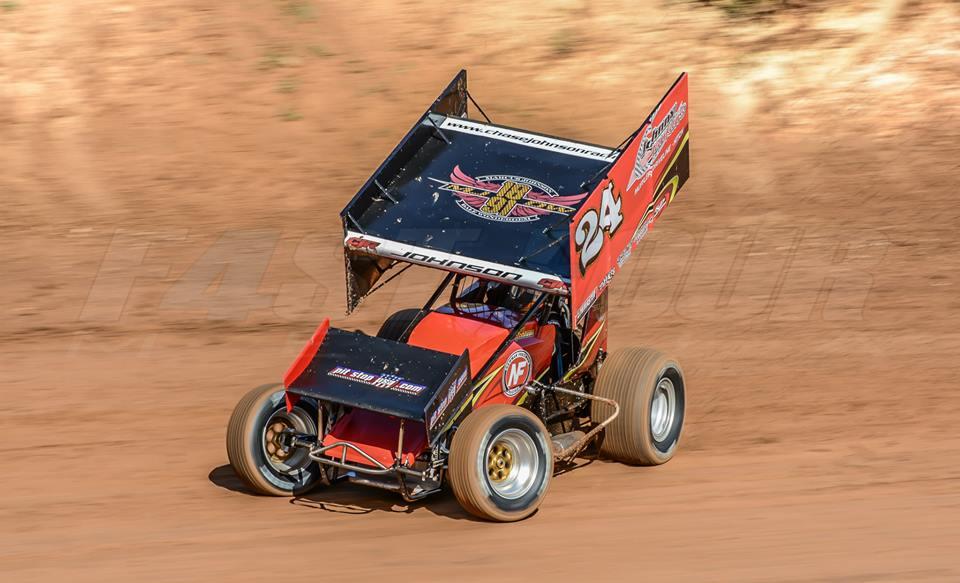 10/5/2015
Inside Line Promotions
---
Johnson Closes Fall Nationals at Silver Dollar Speedway with 11th-Place Finish
(Photo by Fast Four Media)
Inside Line Promotions – CHICO, Calif. (Oct. 5, 2015) – Chase Johnson wrapped up last weekend's 23rd annual Fall Nationals with an 11th-place result.
"It went well," he said. "The typical bad luck of our season is still going on, but Saturday went smooth. Things went our way if you can believe it."
Johnson kicked off the two-day event at Silver Dollar Speedway on Friday in his family owned sprint car. He qualified 12th quickest and was in contention for a lock-in position during a heat race when a fuel issue arose.
"I ran up to fifth and was all over the guy for fourth place," he said. "About halfway into the race, maybe three quarters of the way, a fuel line broke and the car just ran itself out of fuel. We pulled to a stop, went into the work area and found that line, but we weren't able to fix it in time."
The DNF relegated Johnson into the B Main, where he earned a runner-up result to transfer into the main event.
"On the warm-up laps I took two or three before the officials gave us the four wide," he said. "The car almost took itself out of gear, but the lever was still down. We went to the work area and the crew checked it out. They couldn't find anything and we went to push off to give it another try and it didn't want to push off or necessarily go into gear. We found out the rear end blew up."
Johnson was unable to start the main event.
"Luckily, Saturday was a lot smoother," he said. "We didn't have any hiccups. We qualified a little better, but it still wasn't good enough to put us in the inversion. We overcame that and transferred into the A Main."
Johnson timed in 10th quickest before finishing fifth in a heat race on Saturday. That lined him up on the inside of the ninth row for the main event.
"I just put my elbows up and went as far forward as I could," he said. "I mainly picked them off one at a time. The field of guys that night were really stellar. I just tried to put us in the right spot at the right time. The last 25 laps went green to checkered, which made it a little tough to keep advancing. The lines were moving around quite a bit. They had reworked the track before the start of the main. I rolled around the bottom at the beginning and it started fading so I moved up top. When I did that the car became the best. It was a good ending to the weekend."
Johnson rallied from his 17th starting position to post an 11th-place result.
He will return to competition this Saturday at Thunderbowl Raceway in Tulare, Calif., with the King of the West 410 Sprint Car Series.
QUICK RESULTS –
Oct. 2 – Silver Dollar Speedway in Chico, Calif. – Qualifying: 12; Heat race: 11 (6); B Main: 2 (3); Feature: DNS (19).
Oct. 3 – Silver Dollar Speedway in Chico, Calif. – Qualifying: 10; Heat race: 5 (5); Feature: 11 (17).
SEASON STATS –
33 races, 0 wins, 3 top fives, 6 top 10s, 11 top 15s, 17 top 20s
UP NEXT –
Saturday at Thunderbowl Raceway in Tulare, Calif., with the King of the West 410 Sprint Car Series
MEDIA LINKS –
Website: http://www.ChaseJohnsonRacing.com
Twitter: https://twitter.com/ChaseJohnson24
Facebook: https://www.facebook.com/Chase.Johnson.Racing1
APPAREL –
Johnson has new red, black or gray t-shirts and hoodies for sale at his race trailer at every race he competes in this season. T-shirts are $20 each and hoodies are $35 apiece.
SPONSOR SPOTLIGHT – Johnny Franklin's Mufflers
With California locations in Santa Rosa and San Rafael, Johnny Franklin's Mufflers has been a leader in the service industry for mufflers, drivelines and hitches for more than 50 years.
"My great grandpa started Johnny Franklin's Mufflers in 1961 and it has been in the family ever since," Johnson said. "My family and everyone at Johnny Franklin's Mufflers have supported me through my entire racing career and are my biggest fans. I couldn't be happier to represent such a great company."
Johnson would also like to thank Newman Freeman Racing, PitStopUSA.com, Shifty Illusions, Napa Auto Parts, Flowmaster, Don's Truck Repair, VSR, Fast Lube Plus, K&N Filters, Oroville Cycle, I-Wear Graphix, Driven Raceway, Nor-Cal Transmission, Justin Henry Racing and Chevron Pro-Gas for their continued support.
INSIDE LINE PROMOTIONS –
Inside Line Promotions specializes in affordable public relations and media management for motor sports drivers, teams, sponsors, tracks, series, events, organizations and manufacturers. ILP Founder Shawn Miller leverages professional journalism with new media technologies and social networking to improve your exposure and the return on investment for your sponsors.
To meet the media relations needs of your program by joining Team ILP, contact Shawn at 541-510-3663 or Shawn@InsideLinePromotions.com. For more information on Inside Line Promotions, visit http://www.InsideLinePromotions.com.
---
Article Credit: Inside Line Promotions
Submitted By: Shawn Miller
Back to News