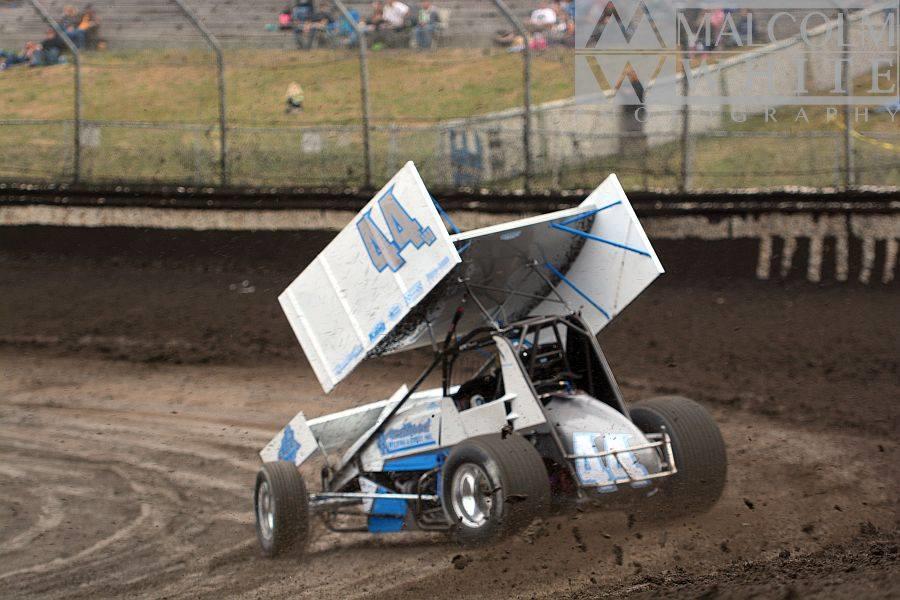 9/15/2015
Inside Line Promotions
---
Wheatley Showcases Bright Spots During World of Outlaws West Coast Swing
(Photo by Malcolm White Photography)
Inside Line Promotions – CHICO, Calif. (Sept. 15, 2015) – Austen Wheatley wrapped up the World of Outlaws Sprint Car Series West Coast swing last week with several bright moments.
Unfortunately, the team got off to a rough start last Wednesday at Cottage Grove Speedway in Cottage Grove, Ore., with the premier sprint car series.
"We put a brand new motor in for qualifying and the car was a dump truck," he said. "The car was so tight."
Wheatley qualified 17th quickest around the quarter-mile oval. That lined him up on the outside of the third row for a heat race. However, mechanical issues relegated Wheatley to a seventh-place finish in his heat and forced the team to swap engines prior to the main event.
"We just ran around midpack for most of the race during the feature," he said. "I got a flat left front tire with about 10 laps to go and we didn't get it changed in time."
Wheatley ended with an 18th-place finish.
The performance improved on Friday at Silver Dollar Speedway, where Wheatley timed in a career-best third place during qualifying to kick off the opening night of the doubleheader.
"Qualifying went really well," he said. "It helped to be the first car out because the track got rougher. Then they reworked the entire track before the heats. It was just a mess."
Wheatley was involved in an early collision, which broke the front end of his car. That sent him into the Last Chance Showdown, where a third-place result garnered a transfer into the main event.
"I started ninth and was up to seventh about midway through the race when I broke a panhard bar," he said. "It centers the front axle in the car. It was sliding from left to right. I would say we had a top-five car before that happened. It was frustrating, but it's just part of racing."
Wheatley was credited with a 20th-place result.
The weekend concluded on Saturday at Silver Dollar Speedway. Wheatley qualified 18th quickest and he charged from ninth to sixth place in a heat race, which was one spot out of locking into the main event.
"I just didn't qualify very well," he said. "In the heat I slid Kyle Hirst for the transfer on the last lap, but he passed me back."
That sent Wheatley to the C Main, where he was running in a transfer position on the final lap when mechanical problems ended his night early.
QUICK RESULTS –
Sept. 9 – Cottage Grove Speedway in Cottage Grove, Ore. – Qualifying: 17; Heat race: 7 (6); Feature: 18 (17).
Sept. 11 – Silver Dollar Speedway in Chico, Calif. – Qualifying: 3; Heat race: DNF (3); B Main: 3 (3); Feature: 20 (9).
Sept. 12 – Silver Dollar Speedway in Chico, Calif. – Qualifying: 18; Heat race: 6 (9); C Main: DNF (3).
SEASON STATS –
26 races, 0 wins, 0 top fives, 3 top 10s, 6 top 15s, 12 top 20s
UP NEXT –
TBD
MEDIA LINKS –
Website: http://www.AustenWheatley.com
Twitter: https://twitter.com/AustenWheatley
Facebook: https://www.facebook.com/DownForceDesigns?fref=ts
APPAREL –
Wheatley will have t-shirts and hoodies for sale at every race he competes at this season. For his schedule of races, visit http://www.AustenWheatley.com.
SPONSOR SPOTLIGHT – Astro Titanium
Established in 1999, Astro Titanium manufactures quality titanium fasteners for sprint cars and midgets. Based out of Noti, Ore., owner Dave Sims has developed his business into a titanium leader on a national scale. For more information, visit http://www.AstroTitanium.com.
"Astro Titanium and Dave Sims have been with me since the beginning of my career," Wheatley said. "Anytime we have a problem, we call Dave up and he helps. He's a really personable guy and his products work great."
Wheatley would also like to thank Redlined Welding & Construction, Downforce Designs, Fire-Down Graphics, SpeedMart, Bell and King Racing Products for their continued support.
INSIDE LINE PROMOTIONS –
Inside Line Promotions specializes in affordable public relations and media management for motor sports drivers, teams, sponsors, tracks, series, events, organizations and manufacturers. ILP Founder Shawn Miller leverages professional journalism with new media technologies and social networking to improve your exposure and the return on investment for your sponsors.
To meet the media relations needs of your program by joining Team ILP, contact Shawn at 541-510-3663 or Shawn@InsideLinePromotions.com. For more information on Inside Line Promotions, visit http://www.InsideLinePromotions.com.
---
Article Credit: Inside Line Promotions
Submitted By: Shawn Miller
Back to News