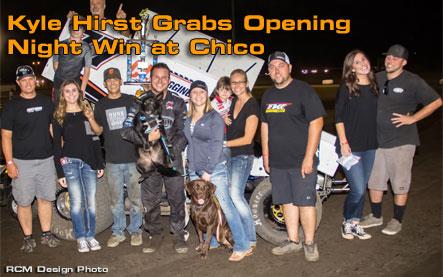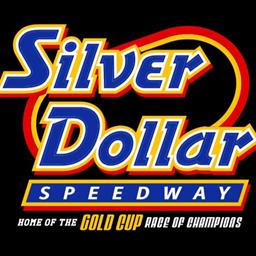 10/2/2015
Silver Dollar Speedway
---
Kyle Hirst Grabs Opening Night Win at Chico
CHICO, CA (10-2-15) - Kyle Hirst came from his ninth starting spot to win the Friday night opener of the 23rd Annual Fall Nationals at Silver Dollar Speedway. Hirst was the show on and off the track. His high side brilliance during the main event was breathtaking while his emotional post-race speech to the crowd was as good as it gets. Hirst eyes welled up as he said, �This is one that race that I will never forget. It was just so fun to drive this car tonight and the track was perfect.� A total of 54 drivers entered the opening night tribute to Stephen Allard.
Becker won the seven lap dash and by doing so earned the pole position of the 30 lap main event. Becker jumped out to the lead ahead of fellow front row starter Willie Croft. On the second lap, Carson Macedo moved into the second spot. Tyler Walker was also able to clear Croft and moved into third. The race was halted on lap eight when Justyn Cox took a wild ride off turn one. He was unhurt but the damage was too much for him to continue. Two laps later Michael Ing flipped in turn two. Like Cox, Ing was fine but the car was done for the night.
Jonathan Allard was the driver on the move. Allard started 11th but by lap nine he was fourth. The next 10 laps, Allard, Walker and Hirst were all battling for the third spot. While this was happening, up front Becker�s nose wing bracket had collapsed. This made the car a handful for Becker. Macedo closed in but was never able to get around Becker. On lap 24 things tightened up as Hirst used the cushion to perfection. Hirst drove around Allard, Walker and Macedo to move into the second spot on lap 25. By lap 26 he passed Becker. Macedo moved around Becker and began to challenge Hirst for the lead. Macedo was the official lap 28 leader. But as quickly as he earned it, Hirst drove up underneath and passed Macedo coming out of turn two. Hirst was back in the lead and led the final lap and a half with ease. Macedo finished second and Becker held on for third. �I just want to congratulate Kyle on a great race and thank my team for all they do,� said Macedo. �I love coming here and am looking forward to tomorrow night�s finale.� Becker added, �Last year I finished third on the opening night and went on to win the Saturday night race so we will regroup and be back strong tomorrow.� Walker did a nice job and finished fourth. Andy Forsberg started tenth and finished fifth.
Oregon racer Garen Linder won the 12 lap semi main event. Chase Johnson finished second and was followed by Matt Peterson and Bradley Terrell. Johnson was unable to start the main event, so fifth place finishing Dustin Golobic was able to make the feature.
Chase Majdic and Mike Monahan put on a great C main event. Both drivers drove hard for the win. In fact, with three laps to go the two banged wheels on the front stretch but were able to continue on. Majdic ended up the winner. Monahan finished second. Finishing third was Chris Masters. Fourth place went to Heath Hall. All four drivers transferred to the B main.
Tonight qualifying was split into two groups. Shane Golobic earned the fastest lap in group one with an 11.850. Macedo was the quickest in group two with a 12.017.
Wyatt Brown won the 15-lap economy winged sprint car main event. �That was intense racing,� said Brown. �We put this car together this week and I am thankful to everyone who helped me out.� Chris Story was vying for the lead with two laps to go but contact with Brown sent Story upside down and unable to continue on. Brown was then challenged by Shawna Overton with one lap remaining. Overton took the lead going into turn three on the final lap but as she slid back up the track her rear end started to slide around and Brown drove back by her. Keith Mikaelsen was the only other car to finish the race and came home third. Cameron Haney won the lone heat race of the night. Haney was up front during the main event but a mechanical issue sidelined him.
Back to News