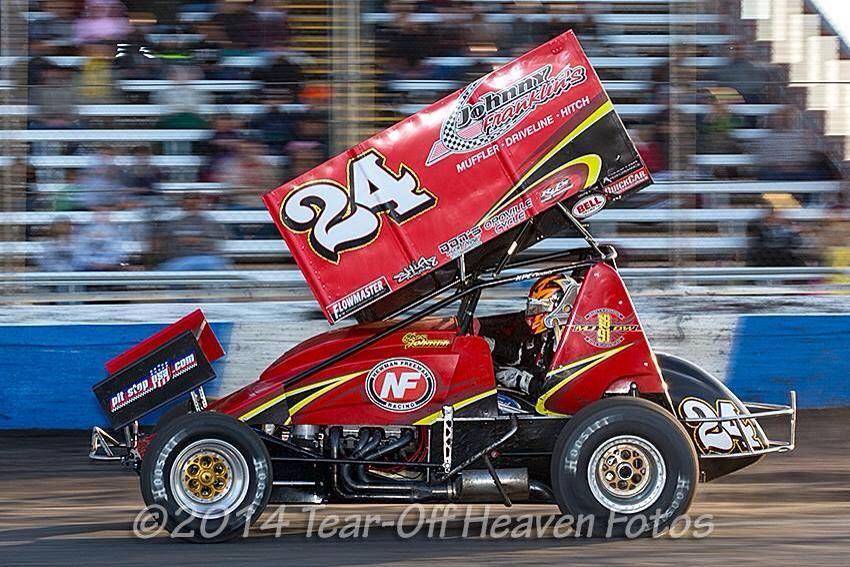 9/9/2014
Inside Line Promotions
---
Johnson Recovering After Violent Nonwing Sprint Car Flip at Silver Dollar Speedway
(Photo by Tear-Off Heaven Fotos)
Inside Line Promotions – CHICO, Calif. (Sept. 9, 2014) – Chase Johnson is healing quickly following a series of violent flips last Thursday at Silver Dollar Speedway.
Johnson, who was making his 410ci nonwing sprint car debut at the quarter-mile track for Shawn and Cindy Thomas during the CRA/USAC event, was sent to the hospital after crashing in turn one during hot laps.
"I was really looking forward to the nonwing event because I don't have much experience in that," he said. "Everything was feeling really good and the car was fast. I was starting to get comfortable in the car. Before I knew it we were gaining on another car. I went into turn one and the car bit right after I threw it in and got on the gas. I think it picked up the front tires and the left rear. It was all over from there.
"Somebody told me I did four barrel rolls and four cartwheels. I was awake the whole time. As soon as I got out of the car and set down my vision was totally black."
Johnson lost his vision for approximately a half hour and after being checked out by the paramedics at the track, his family drove him to the hospital.
"On the way to the hospital I got my vision back and when I got to the hospital I could see people's faces," he said. "It was really weird. That was one of the scariest things."
Johnson also began to taste blood in his mouth during the drive to the hospital. Doctors ran CT scans and tests, which revealed that he had a slight tear in his esophagus.
He sat out the remainder of the weekend, including what was scheduled to be his World of Outlaws STP Sprint Car Series debut.
"I really want to thank Shawn and Cindy Thomas for the opportunity again," he said. "I was also really disappointed that I couldn't get my first World of Outlaws start. That time will have to wait."
Johnson has a doctors appointment this week to reevaluate his recovery. He said that will help determine when he can race again.
Last week had kicked off with a solid performance on Wednesday at Silver Dollar Speedway during the California Sprint Car Civil War Series event.
"We didn't get the greatest track for qualifying," he said. "When we did go out we put down good laps. We rebounded in the heat race though."
Johnson qualified 28th quickest before he charged from seventh to fourth place in his heat race to lock himself into main event.
"The main event was going really good," he said. "We were moving toward the front and all of a sudden we were in eighth or ninth. I was making the outside work. It was a really thin line on the cushion. Coming out of turn four it got the best of me. It grabbed the right rear and pulled the car over the cushion."
Johnson spun to bring out a caution just before the midpoint of the feature after charging from 18th into the top 10.
"It was a really bad time because right after that caution the track went rubber down and follow the leader," he said. "It was hard to make too much happen. We were stuck in the rubber following everyone."
Johnson restarted last and picked up a few positions in the second half of the race to finish 16th.
QUICK RESULTS –
Sept. 3 – Silver Dollar Speedway in Chico, Calif. – Qualifying: 28; Heat race: 4 (7); Feature: 16 (18).
SEASON STATS –
35 races, 1 win, 6 top fives, 13 top 10s, 20 top 15s, 27 top 20s
UP NEXT –
TBD
MEDIA LINKS –
Website: http://www.ChaseJohnsonRacing.com
Twitter: https://twitter.com/ChaseJohnson24
Facebook: https://www.facebook.com/Chase.Johnson.Racing1
APPAREL –
Johnson has new red, black or gray t-shirts and hoodies for sale at his race trailer at every race he competes in this season. T-shirts are $20 each and hoodies are $35 apiece.
SPONSOR SPOTLIGHT – Shifty Illusions
Shifty Illusions is a custom paint business based in Bakersfield, Calif. Shifty Illusions specializes in helmets and goalie masks. For more information, visit http://www.ShiftyIll.com.
"I can't thank Shifty Illusions enough for giving me a great looking helmet that is a tribute to Marcus Johnson and Dale Wondergem," Johnson said. "I'm really thankful for all that he's helped us with. Shifty Illusions isn't expensive and makes everything look great. He's very talented."
Johnson would also like to thank Newman Freeman Racing, Johnny Franklin's Mufflers, PitStopUSA.com, Napa Auto Parts, Flowmaster, Don's Truck Repair, VSR, Fast Lube Plus, K&N Filters, Oroville Cycle, I-Wear Graphix, Driven Raceway, Nor-Cal Transmission, Justin Henry Racing and Chevron Pro-Gas for their continued support.
INSIDE LINE PROMOTIONS –
Inside Line Promotions specializes in affordable public relations and media management for motor sports drivers, teams, sponsors, tracks, series, events, organizations and manufacturers. ILP Founder Shawn Miller leverages professional journalism with new media technologies and social networking to improve your exposure and the return on investment for your sponsors.
To meet the media relations needs of your program and to join Team ILP, contact Shawn at 541-510-3663 or InsideLinePromotions@gmail.com. For more information on Inside Line Promotions, visit http://www.InsideLinePromotions.com.
---
Article Credit: Inside Line Promotions
Submitted By: Shawn Miller
Back to News