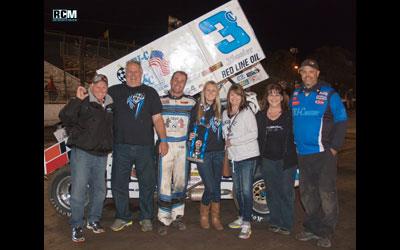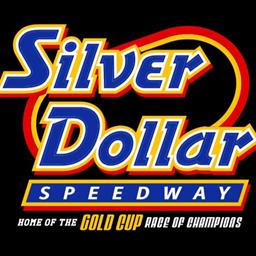 9/26/2014
Silver Dollar Speedway
---
Jonathan Allard Opens Up 22nd Fall Nationals with Wire to Wire Win
CHICO, CA (9-26-14) -Â Jonathan Allard pulled to within one win of tying Tim Kaeding for second on the All Time Win List at Silver Dollar Speedway last night. Allard, who is fresh off his first Gold Cup Title has been fast all year at Chico behind the wheel of the Clyde Lamar owned Tri-C Machine #3C. This being his sixth win of 2014 at the speedway. It was great to see Jonathan celebrating in Victory Lane with his family, as this race has been dedicated as a tribute to Jonathan's older brother Stephen Allard. "It feels great to win again, Willie really gave me a run for it there. I just really want to win tomorrow night." Stated an exhausted Allard in Victory Lane.
The evening started out lightning fast as 1996 and 1997 Fall Nationals Champion, Bud Kaeding paced the field in Qualifying with a blistering lap of 11.688. That lap being just .067 seconds off of the 360 Track Record at Silver Dollar. 47 cars timed in for Night Number one of the 2014 Fall Nationals.
Heat Race action saw five exciting Heat races with each race taking the top four finishers directly to the Main Event. Heat Race number one would be claimed by Roseville, CA driver Bobby Butler. Butler was able to hold off a hard charge by Bud Kaeding to win the heat securing himself a spot in the dash. Fresno driver, Kyler Shaw had an evening ending flip in turn two as the leaders crossed under the Checkered Flag but was uninjured. Sean Becker dominated a non-stop heat race number two, also securing his spot in the dash. Jonathan Allard picked up heat race number three but not before turning a lap of 11.378 during the race, well under the 360 track record. Heat four saw DJ Netto pick up the win in the Netto Ag Services #88n. Rico Abreu won heat race number five by nearly half a lap over Andy Forsberg.
The C-Main Event was claimed by Dean Freitas who led all ten laps. Also transferring out of the C-Main was Jason Statler. In the B-Main Event Colby Weisz would dominate. However the battle for the fourth and final transfer spot was an intense one. Justyn Cox held the position for most of the race but Matt Peterson hounded him lap after lap. Finally with three to go Peterson was able to mount a charge on Cox who had been doing an astounding job of holding Peterson back. As they went into turns one and two with two to go. Peterson tried a crossover move coming off of two and made heavy contact with Cox. The contact caused both cars to come to a stop thus ending both drivers shot at making it to the main event. Their misfortune however came to the delight of none other than Jason Statler. Statler who had already come through the C-Main Event, had started the B-Main in the 16th position. Now on the restart with two to go he had the final transfer spot. As they crossed under the finish line it was Weisz, followed by Justin Sanders, Brad Bumgarner, and Statler.
The five heat race winners and the next five fastest qualifiers to transfer from their heats made the Dash. The finishing order of the Dash would determine the lineup for the first five rows of cars in the 30 lap Main Event. When the Green Flag waved on the Dash disaster struck for Placerville, CA driver Andy Gregg. Gregg's car bicycled really bad going into turn one, sending him flipping between turns one and two. His car would make very hard impact on the final landing causing one of the down tubes on the frame to bend. That meant the end of a very promising night for the 2014 Knoxville Nationals Rookie of the Year. Jonathan Allard would go on to win the Dash followed by Sean Becker.
Although Jonathan Allard did lead all 30 laps of the A-Main Event it was not as easy as it seems. Allard held off multiple charges by Sean Becker and Willie Croft en route to his 55th Career Victory at Silver Dollar Speedway. Sacramento, CA driver Willie Croft showed a lot of speed tonight finishing second. Croft's car really worked the top side of the speedway well and was nearly able to get around Allard in the closing stages of the race. Sean Becker would finish third after nearly flipping in turn four on lap eight. Fast Time Qualifier Bud Kaeding was able to retain a fourth place finish while Scott Parker had a great run to round of the top five. It should be noted that Jason Statler completed his run of the Alphabet soup with an eighth place finish in the Main Event.
We return to action tonight for night number two of the 22nd Annual Fall Nationals in Memory of Stephen Allard. Stephen's family will be selling brand new Stephen Allard T-Shirts, there will be a Memorial Lap during opening ceremonies as well as a special tribute to Stephen prior to the start of the A-Main Event. The front gate is scheduled to open at 5:00pm, with qualifying set to start at 6:00pm. For ticket information please visit our website at www.silverdollarspeedway.com.
Back to News