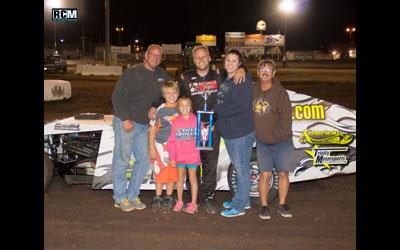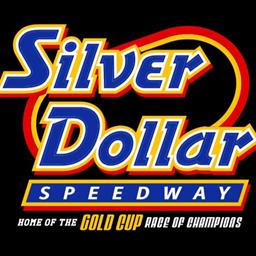 9/26/2014
Silver Dollar Speedway
---
Troy Morris Jr. Thrills Crowd in the Dirt Modifieds
CHICO, CA (9-26-14) -Â The last time Troy Morris Jr. was competing at the Silver Dollar Speedway he ended up upside down in turn one. This time was far and away a better night. Morris was very excited to pick up the win here in Chico. After the race completed he came into the Main Grandstand to celebrate with his family. The win was Morris' first career win at the Silver Dollar Speedway.
At the start of the Main Event it was Duane Cleveland who would jump out to the lead. Cleveland looked to be the car to beat, but on lap 15 the car seemed to go away just a bit. That allowed the #07x of Morris Jr. to close in. Morris took the lead from Cleveland on lap 16 and didn't look back as he was able to hold off an impressive charge from Oreste Gonella. Gonella would have to settle for a second place finish. Duane Cleveland would hang on to bring the #2C home in the third position. While Monte Bischoff and Tom Berry Jr. rounded out the top five. The Main Event was Red Flagged on lap six after the #18H of Willie McMillen flipped in turns one and two. It was an interesting flip however, because the car landed back on all fours and he was able to continue along in the race.
Tonight, the Dirt Modifieds return to the speedway as we expect many more to pull into the pit area. Tonights portion of the Dirt Modified show is going to be the final Points show for the traveling Nor-Cal Challenge IMCA Dirt Modified Series. Coming into this event Troy Foulger holds a three point lead over Ryan McDaniel, and a seven point lead over both Nick DeCarlo and Randy McDaniel. This race is anticipated to be an extremely exciting show as the best Dirt Modified drivers on the West Coast are expected to compete.
Back to News