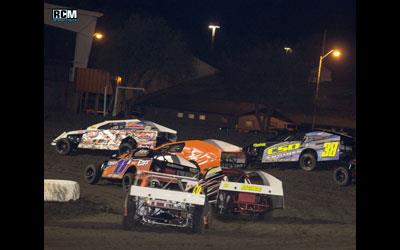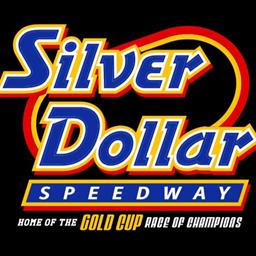 9/17/2014
Silver Dollar Speedway
---
Nor-Cal Challenge for Dirt Modifieds at Fall Nationals
CHICO, CA (9-17-14) -Â The 2014 racing season will come to a close at Silver Dollar Speedway on September 26th and 27th with the 22nd Annual running of the Fall Nationals. During both nights the popular dirt modifieds will get a chance to showcase their collective talents on the quarter-mile clay oval. However, Saturday night is also the final point show for the traveling Nor-Cal Challenge IMCA dirt modified series.
First and foremost, please remember to send in your pre-entry form. If you did not receive one in the mail, we have posted a form on our website at www.silverdollarspeedway.com. This form can be downloaded for printing, filled out, and sent to us in the mail. This form must me post marked on or before September 23rd to save the $100 registration fee for the event. Any entries postmarked after September 23rd or paid at the pit gate on day of race will be charged $100.
The Friday night dirt modified purse is $600 to win. On Saturday night we will host the Nor-Cal Modified Challenge that will boost the winning amount to $1,000. A complete pay out for the modifieds is located on the entry form.
Camping spots are available. Each camping spot is $30 per night.
Pit gate will open at 2PM both days. Front grandstand gate will open at 5PM each night. Friday night adult general admission is $16.00. Seniors and juniors are $13.00. Children are $6.00 and kids five and under are free. On Saturday night adult general admission is $22.00 while seniors and juniors are $16.00. Children are $6.00 and kids five and under are free.
Multi-time Chico champion and defending Nor-Cal Challenge titleholder Ryan McDaniel of Olivehurst is the driver to beat. McDaniel leads the points for the Nor-Cal Challenge and has the most wins in 2014 at Chico with five. While he did not secure the track championship, that honor went to a deserving Duane Cleveland, McDaniel was still the best car judging by his wins. Since 1999, Ryan McDaniel is the winningest dirt modified driver at Silver Dollar Speedway with 42 feature event triumphs.
Two drivers who also have had success at Silver Dollar Speedway include Kellen Chadwick of Oakley and Nick DeCarlo of Martinez. Both drivers are previous winners this year during the tour. Chadwick won the opening round race that was held in conjunction with the Silver Cup at Chico. DeCarlo won the opening night race at Chico this season way back on March 7th. Both drivers have what it takes to win on Saturday night.
Two-time and reigning Silver Dollar Speedway track champion Duane Cleveland of Plumas Lake has the experience and the equipment to get the win. His relentless driving style and determination always gives the fans a thrill. Freddie Plourde of Santa Rosa and Brian Cass of Livermore are two drivers who consistently vie for the wins on any given night of racing.
Chico's Richard Papenhausen and Marysville's Randy McDaniel are two veterans that should be up front for the win on Saturday night. Each are former track champions and both have polarizing driving styles.
Locally, James Hite and Dustin Massey each had consistent runs in 2014 at Silver Dollar Speedway. Leif Berglund was also impressive in his first full season of racing. Salinas was well represented by the Wilson brothers. Kyle and Alex were welcomed additions to the Friday night shows this season.
For updated points and information about the Nor-Cal Challenge please visit their website at www.norcalmodifieds.com/
Back to News