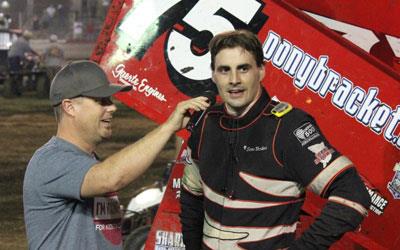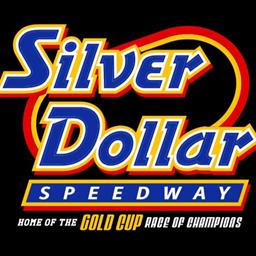 10/6/2013
Silver Dollar Speedway
---
Chico's Hennig joins announcing team for upcoming NASCAR race
ROSEVILLE, CA (10-6-13) -Â For decades Troy Hennig has been the voice of Silver Dollar Speedway in Chico and many prestigious dirt track events throughout Northern California. This coming week the veteran announcer that is a favorite to the dirt track audience will take on a new role as he has been signed on to the announcing team of the upcoming Toyota Napa Auto Parts 150 presented by Ace Hardware and Incredible Solutions at All American Speedway in Roseville.
This high profile event features the NASCAR K&N Pro Series West in a grand event that brings top talent to the region before what is routinely a capacity crowd at the Placer County Fairgrounds and is nationally televised on Fox Sports. It is the largest annual one day event in Placer County and will benefit the fight against breast cancer with $5 from every ticket sold to the Placer Breast Cancer Endowment. For Hennig, this opportunity will be his maiden voyage at an asphalt venue and NASCAR.
"This is one of the biggest opportunities I have been presented with during my 14 years of announcing," said Hennig, who began his announcing career at Silver Dollar Speedway under the management of John Padjen Motorsports, will join veteran NASCAR announcer Gary Moore for the Roseville event and will be honored to be in the company of longtime motor sports commentator Dick Berggren, who is the Grand Marshal of the event.
In the early days, Hennig worked alongside longtime announcer Dennis Gage, who now operates Silver Dollar Speedway and has continued to work close with Hennig in many different aspects at the track. In addition to his regular Friday night gig in his hometown of Chico, Hennig has also called uncountable high profile races like the Vermeil Classic at Calistoga Speedway, the King of the West Sprint Car Series, Trophy Cup, the annual Gold Cup and more.
"Just the chance to announce at an event of this caliber and to be associated with such a well respected and professional team like Bill McAnally Racing is a dream come true," said Hennig. "I can't thank Bill McAnally and Bill Sullivan enough for giving me this great opportunity."
As Saturday's event will bring Hennig's voice to the asphalt community, it will also bring numerous talented drivers that will be behind the wheel as the NASCAR K&N Pro Series West brings its door to door NASCAR action to the tight 1/3 mile track at the Placer County Fairgrounds. Hennig will be with some familiar company from Silver Dollar Speedway at the event as Sprint Car regular Shane Golobic will be on the roster making his first Roseville NASCAR K&N Pro Series start in the race.
Golobic is always a top runner when it comes to racing at Silver Dollar Speedway whether its in sprint cars or midgets. The second generation dirt tracker is a 2013 World of Outlaws winner at Antioch and the 2012 Ocean Speedway Champion. In addition to being among NASCAR's rising young stars, Golobic will race with the likes of two time Daytona 500 Champion Michael Waltrip who has confirmed his entry in the event aboard one of several BMR entries in the race.
The NASCAR K&N Pro Series West is home to the future stars of NASCAR. The highly competitive series is known for its superior level of competition as drivers compete for a regional championship from which many advance to the highest level of NASCAR competition. This series has garnered many of today's top NASCAR drivers including names like Kevin Harvick, Trevor Bayne, Clint Boyer and Martin Truex. Notably Kyle Larson, of Elk Grove, the 2012 K&N Pro Series East championship is already a top competitor in the NASCAR Nationwide Series with plans to graduate to the elite Sprint Cup next year.
This race series is filled with both young and veteran drivers, all of which are hungry for victory and will bring a great deal of fireworks to the All American Speedway that are even hotter than those which are launched during the opening ceremonies of this grand event.. Last year, an outstanding 31 NASCAR K&N Pro Series entries arrived in Roseville, all vying for a spot in the 24 car field.
In addition to the NASCAR K&N Pro Series, the October 12 event will feature a high dollar Late Model race in honor of the late Matt Camp. Camp was a popular driver at All American Speedway who lost his life in a boating accident last summer. In his honor, the Matt Camp 52/52 will be a prelude to Saturday's NASCAR race. This fall classic is expected to draw record entries with over $14,000 in purse money up for grabs and the honor of racing in Camp's memory. The door to door action on race day will all start with the exciting Legends of the Pacific kicking off the on track competition.
Discount general admission adult tickets for the October 12 event are now on sale $35. Juniors (ages 6-11) are $15 and children 5 years and under are free. VIP Hospitality tickets are $65 which include a VIP Grandstand ticket, dinner and beverages in the Wells Fargo Hospitality Corral along with driver appearances, autograph sessions and souvenir gifts. Group VIP Packages with added features for the Wells Fargo Hospitality Corral are available by contacting Bill McAnally Racing Promotions at (916) 676-0010.
Advanced discount tickets are now available for the October 12 event in several fashions. Race fans can purchase their tickets in person at Bill McAnally NAPA AutoCare Centers located at 900 Riverside Avenue in Roseville or at 8636 North Antelope Road in Antelope. Tickets can also be purchased at participating Riebes Auto Parts stores or online at www.BMRnapa.com where you can find a complete schedule of race day action.
Back to News