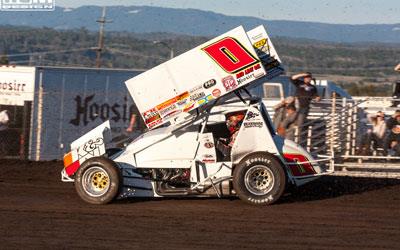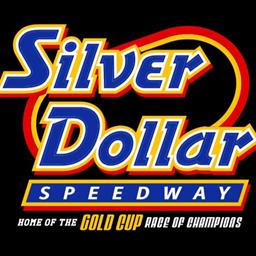 9/24/2013
Silver Dollar Speedway
---
Allard and Kaeding Renew Friendly Rivalry at Fall Nationals
CHICO, CA (9-24-13) - Two of the greatest winged sprint car drivers to ever turn laps at Silver Dollar Speedway are scheduled to compete this Friday and Saturday night during the 21st Annual Fall Nationals on September 27th and 28th. San Jose's Tim Kaeding and Chico's Jonathan Allard lead a stellar list of winged sprint car drivers into this weekend's season ending event at Silver Dollar Speedway. Joining Kaeding and Allard are national recognizable sprint cars drivers like Rutherford's Rico Abreu, Auburn's Andy Forsberg and Roseville's Sean Becker. The dirt modifieds and wingless sprints will join the winged warriors in what should allow fans to see over 80 race cars each night on the famed � mile clay oval.
Tim Kaeding is the most identifiable driver associated with the Fall Nationals race. Of the previous 20 events, Kaeding has won four of the Saturday night main events. Three drivers have captured two Saturday night main event wins. Those drivers are Bud Kaeding, Brent Kaeding and Sean Becker. Kaeding won the Fall Nationals recently, picking up back to back wins in 2010 and 2011. Kaeding is currently second all-time in the career wins list at Chico. Tim has won 56 sprint car main events at Chico. However, Kaeding's last win came on August 18th, 2012. Since 1999, this is the longest winless streak at Chico for Kaeding. "I have not been able to race at Chico lately because my team, (Roth Motorsports), decided to hit the road a lot this year," said Kaeding. "Nationally I have had a great year with the nine World of Outlaw main event wins but locally I haven't been around a lot. It will be good to be in Chico for two days and see some old friends."
In 2008 Jonathan Allard scored his only Fall Nationals win. However, unlike Kaeding, Allard and his Williams Motorsports team seemed to make a point of concentrating more this season at his home track. In turn, Allard won the most sprint car main events at Chico this season with five victories. With these wins, Allard climbed the all-time wins list and is now tied with Shane Scott and Wayne Sue for third. If Allard could win one of these two upcoming races it would move him into third spot all by himself with 50 wins. "I have to thank my team for allowing me the opportunity to race at home more this season," said Allard. "It's a long drive for them but I think we all decided earlier in the year that we wanted to get better at Chico." The hard work and dedication paid off as Allard finished third on the final night of Gold Cup a few weeks ago. "Gold Cup was special for us," said Allard. "To get a podium finish against the world's best drivers was a great accomplishment for us." Allard ended by saying, "It will be good to go against my buddy Tim. We haven't had the chance to race against each other much this season."
Sean Becker comes into the Fall Nationals as the defending champion. Last year Becker swept the entire weekend. This year has not produced a banner season but Becker did score three wins and won his third career Friday night 410 winged sprint car championship. As of press time, Becker is currently leading the Civil War point standings. The season finale was scheduled to take place this past Saturday at Placerville, but inclement weather postponed the event until Wednesday night. Becker's Championship rival both at Chico and Civil War is Auburn's Andy Forsberg. In 2006, Forsberg won his lone Fall Nationals Championship. Forsberg won four main events this season and also had resurgence in his teams qualifying efforts. Forsberg enjoyed his best career Gold Cup by finishing third on the first night and second on the finale. For his efforts, he earned the best combined two-night finishes at Gold Cup.
Other stellar winged sprint car drivers for this weekend will include Chico's Mason Moore and Brad Bumgarner, Anderson's Keith Bloom and Paradise's John Bunch. Sacramento's Justyn Cox, Willie Croft and Kyle Hirst will battle against Placerville's Jimmy Trulli and Andy Gregg.
Pit gate will open at 2 pm each day. The North parking lot will be closed because of a big event being held at the Silver Dollar RC track. All drivers will be funneled through the maintenance gate on the fairgrounds. There will be no camping available in the North parking lot. All campers will be moved to inside the fairgrounds. Front grate will open at 5 pm each night. Qualifying will take place starting at 6:30 pm with racing to follow.
Back to News