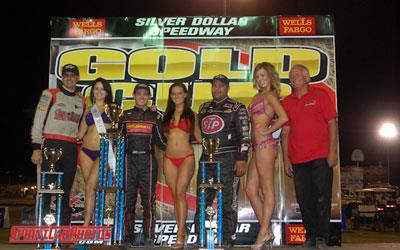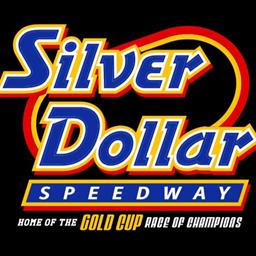 9/8/2012
Silver Dollar Speedway
---
Larson Dominates Second Straight Gold Cup Race of Champions
CHICO, CA (9-8-12) -Â Kyle Larson climbed onto his top wing, set his feet and shot his arms toward the sky as confetti blanketed his sprint car.
A chorus of cheers reverberated around Silver Dollar Speedway during the celebration, which Larson structured well. After all, the California native had plenty of time to orchestrate it while cruising to his second consecutive Gold Cup Race of Champions victory on a warm Saturday evening.
Larson lapped up to seventh place and beat World of Outlaws Sprint Car Series championship leader Donny Schatz by nearly seven seconds to pocket the $20,000 prize in the 59th edition of the prestigious event.
"I don't know if we could have been any better at all," Larson said. "We could really maneuver around the bottom or the top and get through traffic pretty easily. That's just all Paul Silva right there. He's one of the greatest and I'm just so lucky to be able to drive for him. It's even cooler to have Jeff Gordon Children's Foundation on the side of the car and to get a win for those guys.
"To get two in a row makes it feel even better and hopefully we can come back out next year and go for the three-peat."
California was well represented from the initial green flag. Tim Kaeding powered around Schatz on the opening lap and held a sizeable advantage until his left front wheel came off the car as he entered turn one on lap four. It spun him out to cause the first of three cautions and Kaeding was unable to continue.
That gave Schatz the lead, which he maintained before Larson hunted him down. As the duo entered turn one on lap eight, Larson slid Schatz for the top spot. One lap later, Shane Golobic flipped in turn three just as Larson was nearing traffic.
Once the race resumed, Larson quickly built a solid advantage until he had a close call on lap 15 as he was about to lap Jason Statler. Statler's car bounced in the ruts and kicked sideways on the bottom of turn two, forcing Larson to swerve up the track as the caution lights blinked.
It only took four laps after the restart for Larson to reach traffic, which never seemed to slow him. As the laps clicked on the scoreboard, Larson continued to increase his lead and lap cars. By the time the checkered flag was waved, Larson ended only a handful of feet away from putting two more top-10 cars a lap down.
"We had a pretty respectable race car here tonight," Schatz said after finishing second. "Kyle was a lot better and got through traffic a lot better."
Fellow Californian Sean Becker, who claimed his first career World of Outlaws feature win on Friday at Silver Dollar Speedway, rounded out the podium.
"When it comes to the actual Gold Cup main event, everybody is going to bring their 'A' game," he said. "To be able to finish third with these guys is quite an accomplishment. I'm very proud of this team.
"California was represented real well this year I thought at the Gold Cup. Hopefully we continue it on and try to give the Outlaws a run for their money."
Jason Sides finished fourth and Sammy Swindell recorded his 27th top five of the season. Jonathan Allard drove from 13th to sixth and Kyle Hirst earned the KSE Hard Charger Award after maneuvering from 17th to seventh. Joey Saldana placed eighth, Lucas Wolfe was ninth and Craig Dollansky rounded out the top 10.
Hirst claimed the Last Chance Showdown and Andy Gregg won the C Main.
Back to News