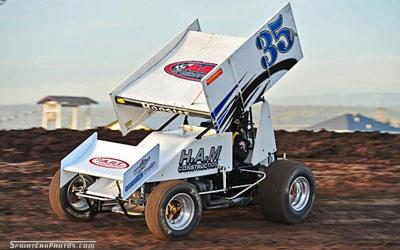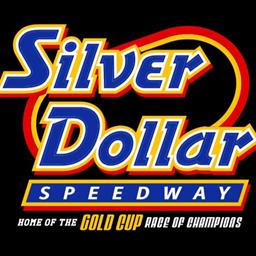 9/19/2011
Silver Dollar Speedway
---
Top National ASCS Contender Johnny Herrera Enters Fall Nationals
[caption id="" align="aligncenter" width="400"]
Photo by Steven Cox [sprintcarphotos.com][/caption]CHICO, CA (9-19-11) -Â It's time to add another big-time sprint car driver to the roster of the 19th Annual Fall Nationals in Chico as Albuquerque, NM driver Johnny Herrera will be aboard the Herrera/Main Motorsports #35a during the two night event. Herrera is currently second in points while chasing the National ASCS title. He has two wins on the tour this year. Herrera will be aboard the Maxim / Ostrich - Ham Construction #35a. The Herrera/Main combination will be part of the many owners/drivers looking to take the lion's share of the Fall Nationals on September 30 and October 1.
At the beginning of this year Herrera partnered up with West Coast car owner Harold Main of Grass Valley. Main and his family agreed to field a West Coast car for Herrera so he could complete the entire National ASCS tour. The combination between Main and Herrera has given both parties a mutual chance at the coveted ASCS Championship. This year, Herrera has already come out to California and ran at Silver Dollar Speedway and other non-ASCS events with the Main Motorsports team. Herrera is a former World of Outlaw Rookie of the Year and Knoxville Raceway track champion.
The Fall Nationals is a two-day show starting on Friday night September 30 and concluding on October 1. Over 70 drivers among the 3 different divisions are expected each night. Pit gate will open at 2pm while the front grandstand opens at 5pm. Sprint car qualifying in scheduled for 6:30 pm and heat races are slated to begin around 7pm.
It is a big payday for the 360 winged sprint car drivers. On Friday night the main event winner will get $3,000 while Saturday night's winner will receive $5,000. Joining the winged sprint cars are the wingless spec sprints and dirt modifieds. Both divisions were added to the show when the Silver Cup Race of Champions was rained out in March. Bigger money is on the line for the spec sprints and dirt modifieds is 20 or more cars enter the event on race nights. All of this information is on the Fall Nationals pre-entry flier. For race drivers and teams interested in registering for the Fall National you can download the flier at www.silverdollarspeedway.com. More information about this weekend of racing please contact the office at 530-350-7275.
Back to News