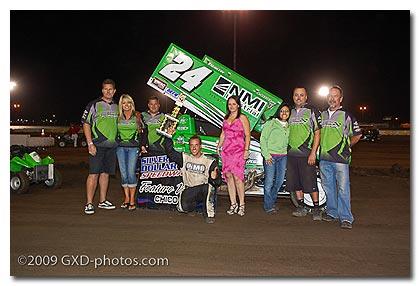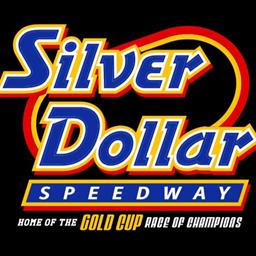 10/2/2009
Silver Dollar Speedway
---
Walker earns pole with Friday night Fall Nationals prelim victory
[caption id="" align="aligncenter" width="420"]
HRP Photo of Steve Cox[/caption]
CHICO, CA (10-2-09) -
 The 18th Annual Pacific Sprint Fall Nationals continued Friday night at Silver Dollar Speedway with the second of two preliminary nights of competition for the three day event that is worth nearly $45,000 in total winnings.Newly crowned Golden State Challenge Series Champion Tyler Walker of Los Angeles took home the win in the 30-lap feature event that ultimately earned him the pole position in Saturday's 40-lap championship race that will pay $6,000 to the winner.
"We are in a really good position to win this deal tomorrow night. We're the high point earner, we're going to be up front and if this team gives me a car like they did night I think our chances are really good," said Walker, who qualified fourth and won his heat race. "This race hasn't been too good to us in the past but this year it's looking pretty good for this number 24 team."
Walker started in the fourth position and used the high side of the track to work his way past pole sitter Mike Monahan of Reno, Nevada and Scott Russell of Placerville by the fourth lap of the race. Once in the lead Walker began to distance himself from the field until the eighth lap with fifth place starter Jonathan Allard of Chico advanced into the bridesmaid position and began to challenge for the lead.
The contest between Walker and Allard heated up by the halfway point of the race. Allard overtook the top position from Walker on the 17th lap and maintained it until Walker charged back into the lead on the 20th lap. The dogfight between the two top runners continued into the final laps of the race with seventh place starter Kyle Hirst of Loomis closing on the duo in the final moments.
At the checkered flag Walker was followed by Allard, Hirst, Greg DeCaires of Elk Grove who started sixth, 17th place starter Brad Furr of Pleasanton and Andy Gregg of Placerville who finished just one notch out of the top five.
"I'd like to congratulate Tyler on the win, he drove a heck of race here tonight," said Allard, won changed his car number to 8R in honor of the recently injured Travis Rutz. "The track is much better than last year that's for sure since we have had no weather issues. We should be starting up near the front and I'll give it everything I've got. I want to thank my car owner Morrie Williams and everyone that works so hard for this team."
Saturday night, several drivers will assemble in the grandstands at Silver Dollar Speedway to due a helmet pass. They will be collecting funds to assist the Rutz family with medical costs after the young Canadian driver was seriously injured in an accident.
"We have one of own hurting really bad right now, Travis Rutz," said Walker. "Saturday we're going to get a chance to do a helmet pass and work together to help the family out. It's what we do in times like this, we come together and help one another out."
After the Thursday and Friday's preliminary events, accumulative event points place Walker on the pole with a total of 544 points. Friday night winner Sean Becker will start on the outside of the A-feature with 533 points. Hirst will line up on the inside of row two after earning 530 points while Bobby McMahan of Sacramento will start on the outside of the second row with 525. Brent Kaeding of Campbell starts fifth with 524 points with Montana's Wayne Johnson starting sixth ahead of Jason Statler, Brad Furr, Jonathan Allard and Greg DeCaires.
In preliminary competition Friday fast time went to Hirst with an 11:730. Heat races were won by Walker, Allard, Richard Brace Jr. of Auburn and Jimmy Trulli of Placerville. The B-feature was claimed by Furr who was followed by Willie Croft of Chico, Justyn Cox of Sacramento, Heath Hall of Chico and Placerville's James Sweeney.
Saturday's event will include feature events including all the returning drivers from both Thursday and Friday nights. Racing will start at 6:30 with an F feature working up to the 40-lap A-feature that includes the top 24 cars of the three day event. On Saturday adult admission will be $20, Juniors $11 and Children $5. For further information on this event visit www.silverdollarspeedway.com or contact the track office at 916-969-7484.
Back to News