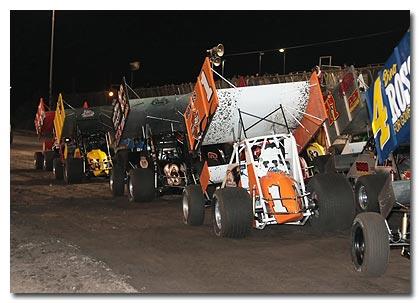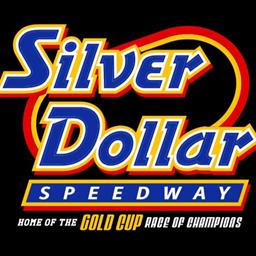 9/27/2009
Silver Dollar Speedway
---
Silver Dollar Speedway ready for high profile 3-Day Fall Nationals
[caption id="" align="aligncenter" width="420"]
HRP Photo of Steve La Mothe[/caption]
CHICO, CA (9-1-09) -Â Nearly $65,000 dollars will be up for grabs this week at Silver Dollar Speedway in Chico as Handy Racing Promotions Inc. and Hoosier Racing Tires present the 18th annual Fall Nationals Thursday through Saturday on the high banked dirt oval at the Silver Dollar Fairgrounds in Chico.
This three day event will draw the top 360 cubic inch winged sprint car drivers from all areas of the Golden State as well as the Pacific Northwest and select area of the United States as it marks on the richest California events for the popular division. The winner of Saturday's feature event will take home $6000 for their efforts and the action is sure to be all but lackluster as history proves this event to be one of the most competitive races of the year.
In 2008 inclement weather forced track officials to adjust the format for the three day event but Chico's own Jonathan Allard still managed to carve his way through the field on Saturday night to claim the victory. The night will long be remembered after heavy rains made for tough track conditions for the Saturday finale, giving race fans a wild show to witness and drivers like Allard an intense workout to the checkered flag.
"That was one of the toughest races I ever drove," said Allard. "This year the weather looks to be good and with everything back to it's regular format we are looking forward to this race. We've had a strong year at Chico this year with several top five finishes and good runs with the Outlaws so I think we're going to do really well."
In 2007 Tim Kaeding won the Fall National's Championship with a memorable last turn pass. While Kaeding has since joined the World of Outlaws Tour, 2006 Fall Nationals Champion will look to fight Allard for a repeat championship in this great fall classic. Brent Kaeding of Campbell. The 2005 champion is expected to be among the former champions returning along with Pleasanton's Brad Furr who claimed the title in 2003.
The week's coming event is expected to draw all of the sports' top drivers into the three day format that splits the field for qualifying Thursday night and Friday night and will bring all competitors back on Saturday night for an evening that features all main events and pays $6000 to win the feature race. Feature event line ups will be determined by accumulative points earned by drivers for their efforts on both Thursday and Friday night.
All seating in general admission for the 2009 Fall Nationals. On Thursday and Friday night the grandstands will open at 5:00 with qualifying at 6:30. Admission to the preliminary events will be $15 for adults, $11 for juniors and $5 for those under 11. On Saturday adult admission will be $20, Juniors $11 and Children $5. For further information on this event visit www.silverdollarspeedway.com or contact the track office at 916-969-7484.
Back to News