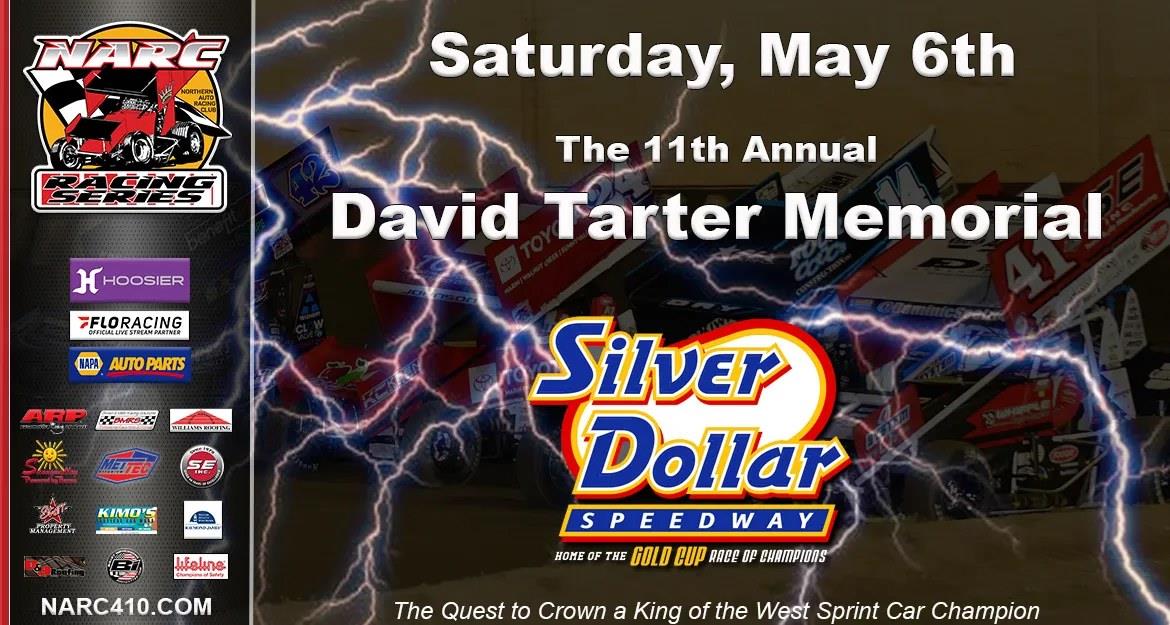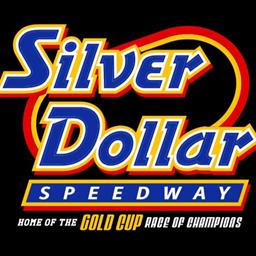 5/2/2023
Silver Dollar Speedway
---
David Tarter Memorial Now Pays $5,035.00 to Win, Plus Other Added Bonuses
FOR IMMEDIATE RELEASE
Contact: SLC Promotions, silverdollarspeedway@yahoo.com
David Tarter Memorial Now Pays $5,035.00 to Win, Plus Other Added Bonuses
CHICO, Calif., May 2, 2023…Anticipation is at an all-time high for fans and drivers as we all look forward to returning to the famed Silver Dollar Speedway this Friday and Saturday night. It has been seven months since the last race was held at the Speedway. The withdrawals of non-racing have been felt locally and nationwide.
The David Tarter Memorial is a staple in the landscape of sprint car racing. The 11th edition of this race takes place this Saturday night at his home track, in his hometown of Chico, CA. The race is run in honor of David Tarter, who tragically lost his life on June 8th, 2012, in a freak pit accident at Silver Dollar Speedway. He may be gone, but he is not forgotten.
Things just got amped up for the NARC 410 Sprint Car Series on Saturday night. With the generosity of Bart Riebes and Riebes Napa Auto Parts, the 35-lap main event winner on Saturday night will now win an inflated $5,035.00! The start money has also been bumped up and will now award a minimum of $535.00 for the competitors. "We are thankful for Bart helping increase the purse in honor of David Tarter," said Brad Sweet of SLC Promotions. "David led by example of how hard he worked and how much love he had for racing sprint cars at his home track in Chico. We at SLC Promotions know how important his legacy is to keep alive at Silver Dollar Speedway."
Additional prize money was announced today by NARC and Jim Allen. It included a $200 hard luck award and a $200 award in David Tarter's name going to the sprint car team that the Tarter family has described as the most with the least (smaller funded team).
Kaeding Performance is gifting each heat race winner 5 gallons of fuel. Tiner/Hirst Ent. is giving each heat race winner a sleeve of tear offs. SG Composites is gifting a set of carbon fiber wing caps to the first driver that, unfortunately, flips on Saturday night.
The Tarter family has once again gathered $3500 in individual lap money. Each of the 35-laps are sponsored for $100. Lap money for each lap in the feature event will award the first-place driver $50, second-place $30, and third-place $20. Potentially, if one driver can lead all 35 laps, there would be $1,750 of bonus money added to the newly announced $5,035.00 to win, bringing the winners grand total to $6,785.00.
The fun and entertaining Dwarf Cars will companion the NARC 410 Sprint Car Series on Saturday night, May 6. A twin billing of sprint car and dwarfs is the perfect mixture of exciting racing and close tight knit racing fans must see.
Auto racing kicks off this Friday night, May 5, with the 15th Edition of the Bill Brownell/Tommy Herseth Classic. The cars and stars of Silver Dollar Speedway return with three big divisions ready to attack the famed quarter mile clay oval high banked speedway. The 410 sprint cars, Hobby Stocks, and the IMCA Sport Mods are scheduled to race.
With financial support from Shane Scott and Care Free Pools, the winged 410 sprint cars will race for a $3,000 winners pay day. In fact, the 410 main event purse on Friday night is around $14,000. "One of our goals at Chico has been to try and keep 410 sprint cars alive and thriving," said Colby Copeland of SLC Promotions. 'We hope to offer the fans a great weekend of racing with big money on the line for both nights."
Fan & Competitor Info
Pit gate is set to open at 2 p.m. each day for the competitors. On Friday night, the front grandstand gate will open at 5 p.m. Racing is scheduled to start 6:30 p.m. On Saturday night, the front grandstand will open at 4 p.m. Happy Hour with music is from 4 p.m. to 6 p.m. Racing is scheduled to start at 6:30 p.m.
Friday night grandstand tickets are priced at $25.00 for adults (18 and up), $15.00 for juniors (13-17) $12.00 for children (6-12). Kids 5 and under are FREE.
Saturday night grandstand ticket prices are $30.00 for adults (18 and up), $20.00 for juniors (13-17), and $15.00 for children (6-12). Kids 5 and under are FREE.
Fans can purchase tickets online by following this link https://silverdollar.ticketspice.com/david-tarter-memorial-weekend . There is a small fee associated with each ticket purchase online. Tickets are also available for purchase each night of the event at the front box office.
More information about this weekend's event can be found at www.silverdollarspeedway.com
Information about the Narc 410 Sprint Car Series is available here https://narc410.com/
Both nights of racing will be broadcast on the streaming service Flo Racing.
ABOUT SILVER DOLLAR SPEEDWAY
Silver Dollar Speedway is a high-banked, quarter-mile clay oval racetrack located on the Silver Dollar Fairgrounds at 2357 Fair St., Chico, California. Opened in 1962, the track hosts multiple high-profile events including the marquee Gold Cup Race of Champions, Silver Cup John Padjen Classic, David Tarter Memorial, and the Fall Nationals in tribute to Stephen Allard
silverdollarspeedway.com • facebook.com/sdspeedway • twitter.com/sdspeedway
ABOUT SLC PROMOTIONS
Founded in 2021 by championship auto racers Brad Sweet and Kyle Larson—along with business partner Colby Copeland—SLC (Sweet Larson Copeland) Promotions is dedicated to leading grassroots dirt track racing into the future while preserving the sport's rich history. SLC manages and operates Silver Dollar Speedway in Chico, California.
---
Submitted By: troy hennig
Back to News